Zach Esponda, 12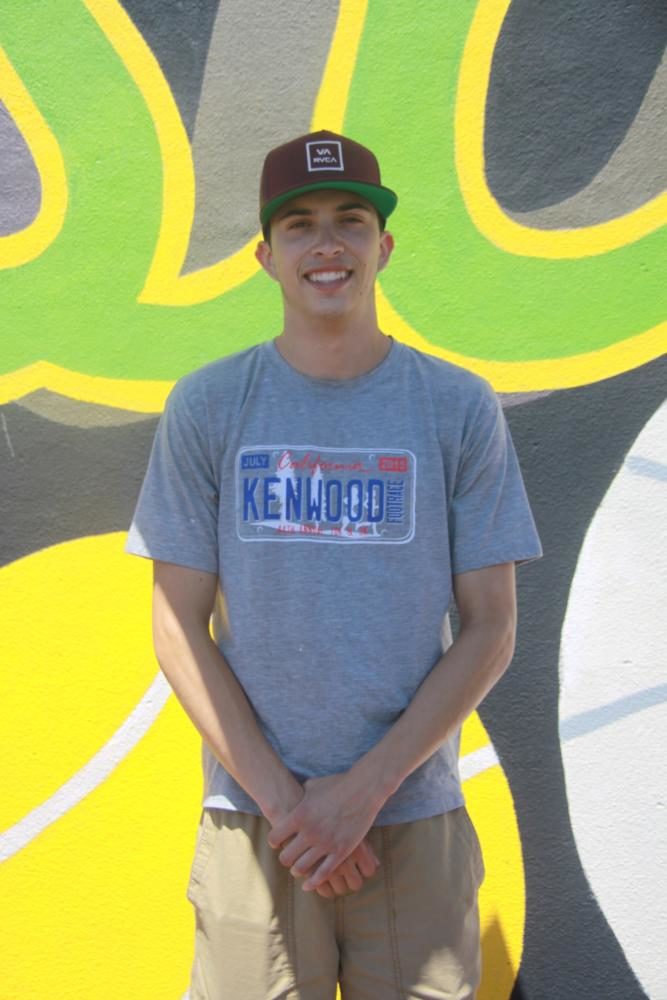 Ever since I was young, I've been interested in joining the military. I used to spend my Saturday mornings watching the training Navy SEALS went through on the History Channel; I watched the way my father positively impacted people's lives as he served as a police officer. As I grew older, my desire to join the military only grew stronger. I knew that I could help those abroad who didn't have the ability to help themselves and that's something that had really propelled me in my decision to join the Air Force. And after serving those abroad, I want to come home and serve my community as a police officer.
Running for me is something that I get to go do apart from school and all my academic obligations. [It's] an outlet; it helps me relax and eases my stress, but it's also something I can challenge myself in. Practice after school for me is sort of a sacred time in which all I'm focused on is running—nothing more, nothing less. Each day at practice, I get the opportunity to push myself past what I thought my limits were and better myself as an athlete and individual. I have the chance to quit or push through the pain, and the sense of accomplishment that I get when I refuse to give up is like no other. That's something that I haven't found in any other sport. So for those few hours after school, I do nothing but what I love and any other time than that is when I turn my attention toward my school work.
My favorite subject, which I didn't realize until my senior year, is economics. Under the guidance of Mr. Griffin, I learned everything there is to know about the economy and how it operates. I found it amazing how intricate the economy really is and how the slightest changes in the market can have an enormous effect. Another subject that has grabbed my attention is American Government and Politics. I think it's essential that teenagers learn how our government operates and the role we play in it.
Time management is key to balancing my schedule. While it can be hectic at times, I always manage to find the time to complete everything I have to do, as well as make time to spend with friends and family. I always have to stay on top of my homework by getting assignments done as soon as possible so I can spend my free time as I please. Most of the time I end up being ahead of what I need to do, which is a great feeling because then I can spend my time hanging out with my brother or out running with friends.
The one person who's impacted my life most is my father. One thing that he always told me growing up was that, "Everything you say and do is remembered in the minds of men and the heart of God," and those words have guided me throughout my life, serving as a constant reminder that everything I do affects those around me.
I feel very lucky to graduate from such an amazing high school. Both our academics and athletics are unrivaled and I wouldn't change anything about my high school experience. I've created amazing relationships, and I'm so thankful for those who have made amazing memories with me.
What I've learned from our school, and what I think I will always remember, is what it means to be a good teammate and leader. Through running both cross country and track, I have come to understand how important it is to encourage and push your teammates to do their best. However, I've also learned that it's okay to fail, because when we fail we learn and we become not only better athletes but better individuals as well. I'm always going to remember the times when I fell, and my teammates built me back up and helped me move forward.
I don't specifically know what I want to be in the future, but I do know how I want to be defined. I want to be seen as a man committed to selflessly serving others who positively impacts the lives of those around him. I hope that others see something different in me, and are drawn towards that.
I think there are a lot of challenges for me in the future, and I say that because of the path I've chosen. Nothing about it will be easy, but that doesn't scare me because challenge is what refines an individual and makes them better. Romans 5:4 says, "We rejoice in our sufferings, knowing that suffering produces endurance, and endurance produces character, and character produces hope, and hope does not disappoint." So in times that I feel overwhelmed, I think of that verse.
The best tip I can give to someone is that time management is important. Although it might be fun to say, "Due tomorrow… DO tomorrow," [that] actually doesn't work. Getting assignments done on time eases stress and leaves you with time to pursue other interests rather than cram for a test the night before.