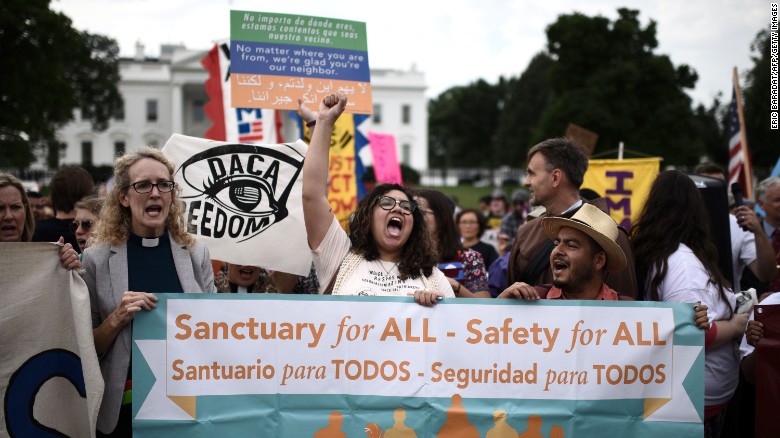 A Dream Deferred
November 4, 2017
Young Dreamers share their thoughts on the Trump administration's recent decision to rescind DACA. These students are referred to anonymously in the article.
In English
   Every student on campus faces trials, from completing stressful homework, to procrastinating on difficult projects, to enduring intimidating tests.
   However, for a specific group of students, there is another reason to feel stressed and afraid. On Sep. 5, 2017, U.S. Attorney General Jeff Sessions formally announced the President's Executive Order for complete termination of the Deferred Action for Childhood Arrivals (DACA) program. This is a program for undocumented children who were brought to the United States by their parents –– often referred to as Dreamers. DACA guarantees a deferred action for two years, protects children from deportation, and allows Dreamers to get a work permit. On campus, there is a large community of Latinos and Chicanos, in addition to a variety of other ethnicities, most of whom are protected by DACA. Many students now face the difficulty of a world without DACA.
   Back in 2012, former President Barack Obama used his executive power to protect and aid Dreamers. Originally, during Trump's campaign for office, he promised to do his best to dismantle the legacy the Obama administration had left behind. The application itself is a long and arduous process. One student with DACA comments on not only the frustration but also the fear caused by giving detailed personal information to the government.
   "It takes money, it takes energy, and it takes time. It takes courage to even put yourself out there, and put your fingerprints, your personal information and be exposed to that kind of stuff," the anonymous senior said.
    It's not only the fear of deportation that Dreamers face, but also discrimination and confrontation with law officials. Their parents did not want them to live in a country with poverty, crime, and lack of education. Another Dreamer talks about her fear of law enforcement.
   "If at any moment you have a car accident, or if it's not even your fault, or you're just driving around and get into a scenario where police and authorities are involved, it's scary. Every time I see a cop, it makes me nervous," Anonymous said.
   But what exactly are the effects on undocumented students? Unsurprisingly, the prospect of being deported terrifies many, but there is a deeper impact on students all over the nation.
   "It's emotionally, and mentally effective, it makes students realize that they won't be able to have further education after high school, which makes the college application process even harder. It is a resource that is getting taken away from us, and it's not fair. This is going to stop students from actually trying. It's going to make it really bad for us because we lose hope. It's hard to overcome it, but it [becomes a] distraction for everything we do," said the anonymous senior.
   Despite the difficulty, these Dreamers have not given up hope; they continue to work hard at school and dream of a better future. One Dreamer implores their peers to keep an open mind about DACA and those who benefit from it.
   "I hope people begin to realize that we are here for a reason, and we're not here to take people's jobs and to try and make them look bad in any way. We want to do more than just work in this country, " said the anonymous senior.
   For these Dreamers, the U.S. is the only home they've ever known and DACA is a doorway to opportunity. A Dreamer makes it clear that she is here to stay: "We can prove a point and we'll get somewhere."
Leave a Comment
En español
   Cada estudiante en el campus enfrenta adversidad, de completar tarea estresante, procrastinar en proyectos difíciles, y soportar exámenes difíciles – pero para ciertos estudiantes, hay otra razón adicional para sentirse estresado y asustado. El 5 de septiembre de 2017, el Procurador General Jeff Sessions anunció formalmente la orden ejecutiva del Presidente para la eliminación total de la Acción Diferida para los Llegados en la Infancia (DACA). Este es un programa para los niños indocumentados que fueron traídos a los Estados Unidos por sus padres – a menudo se refieren a ellos como Soñadores. DACA garantiza una acción aplazada por dos años, protege a los niños de la deportación, permite a los Soñadores obtener un permiso de trabajo. En el campus, tenemos una gran comunidad de latinos y chicanos, además de otras etnias, algunos de los cuales están protegidos por DACA. Muchos de nuestros compañeros ahora se enfrentan a la dificultad de una vida sin DACA.
    En el 2012, el ex presidente Barack Obama utilizó su poder ejecutivo para proteger y ayudar a los Soñadores. Originalmente, durante la campaña de Trump para la presidencia, él prometió hacer lo posible para desmantelar el legado que la administración de Obama había dejado detrás. La solicitud de DACA en sí es un proceso largo y arduo. Un estudiante comenta no sólo la frustración sino también el miedo causado por tener que dar información personal detallada al gobierno.
    "Se necesita dinero, se necesita energía, y se necesita tiempo. Se necesita valor incluso para exponerte, para dar tus huellas, tu información personal y estar expuesto a ese tipo de cosas," comentó una estudiante anónima de último año de preparatoria.
    No es solamente el miedo a la deportación que enfrentan nuestros compañeros, sino también la discriminación y la confrontación con los oficiales de la ley. Sus padres no querían que vivieran en un país con pobreza, crimen y falta de educación. Un Soñador de Casa Grande habla de su miedo ante las autoridades del orden policial.
    "Si en cualquier momento usted tiene un accidente automovilístico, aún si no es culpa suya, o simplemente está conduciendo y se enfrenta ante una situación donde está involucrada la policía o las autoridades, da miedo. Cada vez que veo a un policía, me pongo nervioso," dijo un estudiante anónimo.
    Pero ¿cuáles son exactamente los efectos sobre nuestros compañeros indocumentados? No es sorprendente que siquiera la posibilidad de ser deportado aterrorice a muchos, pero hay un impacto más profundo en los estudiantes a través de todo el país.
    "Es emocional y mentalmente desgastante, obliga a los estudiantes a darse cuenta de que no podrán tener una educación superior después de la preparatoria. Esto hace que el proceso de solicitud a la universidad sea aún más difícil. Es un recurso que nos están quitando, y no es justo. Esto va a provocar que los estudiantes dejen de intentar. Esto va a empeorar la situación para nosotros porque perdemos la esperanza. Es difícil superarla, será una distracción para todo lo que hacemos," dijo una estudiante anónima.
    A pesar de la dificultad, estos Soñadores no han perdido la esperanza, siguen trabajando en la escuela y sueñan con un futuro mejor. Un Soñador implora a sus compañeros que mantengan una mente abierta sobre DACA y aquellos que se benefician de él.
    "Espero que la gente empiece a darse cuenta de que estamos aquí por una razón, y no estamos aquí para quitarles el trabajo a la gente o hacerla verse mal de algún modo. Queremos hacer mucho más que simplemente trabajar en este país," dijo el estudiante anónimo.
    Para estos Soñadores, los Estados Unidos de América es el único país que han conocido y DACA es la puerta a la oportunidad. Un Soñador deja claro que ella está aquí para quedarse: "Queremos demostrar que podemos llegar lejos."
Leave a Comment