Voice: Abigail Western
February 9, 2018
I have been horseback riding for about eight years. I started in a lesson program where I was riding my trainer's horses, and then I got my first horse about five years ago. She was my sister's horse and she got handed down to me; I have been competing since then. My sister, who is four years older than me, influenced me to ride. My mom wouldn't let me start riding yet, but I still went out to the barn with her. I'm sure I thought I was helping her quite a lot. I was really just watching her to get the exposure to horses, so when my mom finally let me ride, I was even more excited.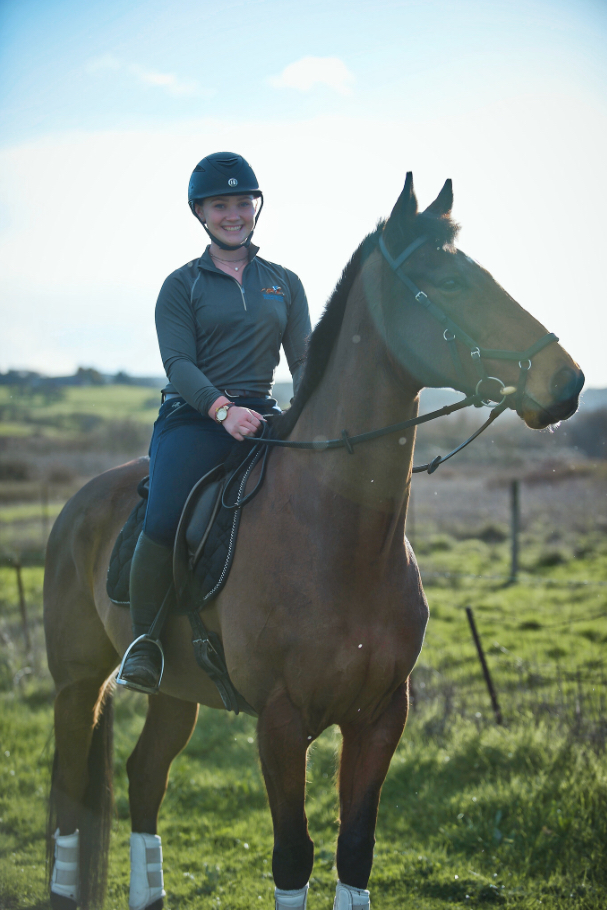 I plan on continuing to ride and compete through high school. I would love to always have horses in my life. I don't know if I can afford to keep competing them forever, but maybe I can pick it up again after college—that'd be nice.
For competitions, the discipline of riding is called "three-day eventing," which is basically three separate events, it's all in one. The competitions take place over three days, and the first day is what they call "dressage." Some people think of that as horses dancing: there are fancy people dressed in black and white. It takes place in an arena that is marked with certain letters, and I have to memorize a pattern to ride. At a certain letter, I have to do either a circle or maneuver. The second day is "cross country," which is this giant open space where there's jumping over natural obstacles. For this event, I jump over logs, brush, and go through water while the horse is galloping. I have a certain time that I need to complete my course of jumps in, and I can't go too fast or too slow. The third day is "stadium jumping," which is jumping again, but it's in an arena. It's those jumps that are made out of poles, so if the horse doesn't tuck up their legs enough when they jump, they knock down a pole, and I get penalties. It's very important that the horse is listening to its rider to make sure they complete the event in their time slot.
This past year of competitions my horse, Peaches, and I stepped up to another level. This was a big accomplishment for us. Peaches is not exactly bred for "three-day eventing" because she's a little quarter horse, which are the ones people normally see herding cows. We did a few competitions last year and she was really successful. It's nice for me to know that things can pay off even when I'm not the rich kid with the fifty-thousand-dollar horse that they imported over from Europe. It's nice to know that I can maybe not be as good as them, but at least measure up to them.