Review: "The Sun Is Also a Star" is Charming and Heartbreaking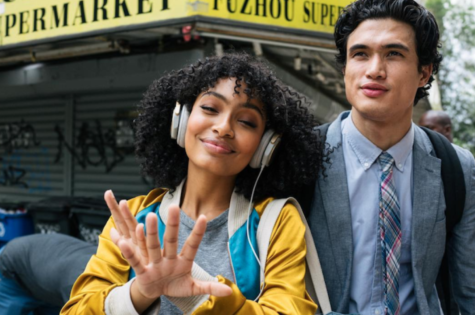 Natasha Kingsley played by Yara Shahidi and Daniel Bae played by Charles Melton, portray a love that overcomes time and circumstances on screen for "The Sun Is Also A Star." The film is based on the novel by Nicola Yoon; however, the movie differentiates with subtle aspects that can only be caught by readers of the book. But the storyline is the same: Natasha is a headstrong individual trying to prevent her family's deportation to Jamaica while Daniel is preparing himself for an interview that will decide his future at Dartmouth. Daniel derives from a Korean family and struggles with the future his family laid out for him as a doctor—he loves poetry. As a dreamer and believer of fate: Daniel falls in love with Natasha at first sight. After a near death experience, Natasha and Daniel engage in an argument of love which leads to a scientific experiment for Daniel to make Natasha fall in love with him in one day.
Between appointments, the two protagonists have a magical day in New York City. Daniel becomes every girl's dream as he sings Crimson and Clover in norebang (Korean karaoke). Natasha imagines their future as he sings: their relationship, marriage, and family. The film plays with images of the past and future making the film emotional and sentimental throughout. There is a brief historical explanation of how Daniel's Korean parents own a black hair store which reaches into the past, it is informative but not overbearing and a unique aspect that sets apart this film to others. With the connections to the past of their different cultures—Daniel's doljabi—the movie reveals the influence of tradition and parents on their children's identity.
When Natasha discovers that her lawyer isn't able to change her families removal, he mentions the current political climate which connects to hundreds of situations occurring today. Although Shahidi depicts Natasha's heartbreak accurately, the rest of the family are hardly shown and are not as effective when they appear on-screen. Unlike the book, the movie focuses on the romance rather than exploring other topics in the novel: racism, mental health, and overall delving further into both the character's cultures. There is an obstacle that in the end keeps them apart but the movie quickly reconciles it and it ends as an almost "happily ever after" which largely contrasts the mystery ending of the novel.
Overall the movie is beautifully set in New York City, alluring with the shots of the buildings and lights. The leading actors are fresh faces that actually fit the description of the characters, they easily fit their persona personality and emit true emotion. Although it veers off from important subjects that could be developed, "The Sun Is Also A Star" is a magical love story that leaves your heart warm.