Casa Traditions
Every day, students on campus pass murals, memorials, and projects on campus. From special sports tournaments to the homecoming parade, Casa's campus is ripe with history and traditions most students have never heard of or experienced. Casa alumni and current history teachers Mitchell McSweeney and Paula Biancalana explained some of the murals, memorials, and projects on campus.  
Biancalana remembers powderpuff football from her days as a student, which used to be tackle football between the junior and senior girls but has since been changed to flag football. The Egg Bowl, another Casa tradition, is a rival match that began at Petaluma High in 1975 with Casa Grande winning the game and then losing for many years after that before the teams' skills leveled out once again.
Casa's McGloin hall is named after James McGloin, the second ever principal of Casa Grande who was also the Vice Principal when Biancalana and fellow teacher Rick O'Brien attended Casa and graduated in 1979.
Sights and Sounds of Casa is relatively new but has quickly become a staple Casa tradition. It began when Dr. Ostermann started at Casa.
The homecoming parade is an old tradition that was recently revived. When Biancalana was a student, their homecoming parade was at the beginning of the week. The band played, students showed example costumes for the spirit days, and students would learn what each club's float was going to look like. Then, all the floats would come and drive around the track to be judged before continuing their parade down McDowell and Caufield to show the community.
Biancalana shared her thoughts on the current set up with the parade being in school instead of on the track.
"I think it's really cool to have the parade in school again because for kids who aren't going to the football game, it kind of brings in that school spirit. So I think that's kind of a cool thing," said Biancalana.
McSweeney described the James Forni memorial outside of the gym. Forni was a P.E. teacher and basketball coach at Casal who battled melanoma before his death in 2015. A group of seniors then created a memorial for him as their senior project: a walkway and welded "V" that sits outside of the gym. The "V" stands for Vincero, a popular Italian word that is used to commemorate Forni in the community, as it means "I will win" in English. McSweeney was Forni's waterboy for three years and shared his thoughts on the memorial.
"I think the statues are amazing and I love that we keep doing Vincero Fridays. He was a special man that heavily influenced me for sure," said McSweeney.
The recently painted mural next to the art and culinary building used to be a memorial to Adam Wescott, a Casa student who died as a result of a car accident in 1997. He played baseball at Casa with Jonny Gomes, now a MLB player, and there is also an Adam Wescott Baseball tournament in his honor. His mural has since been painted over, and the art class has been re-painting murals there for a couple of decades, according to Biancalana.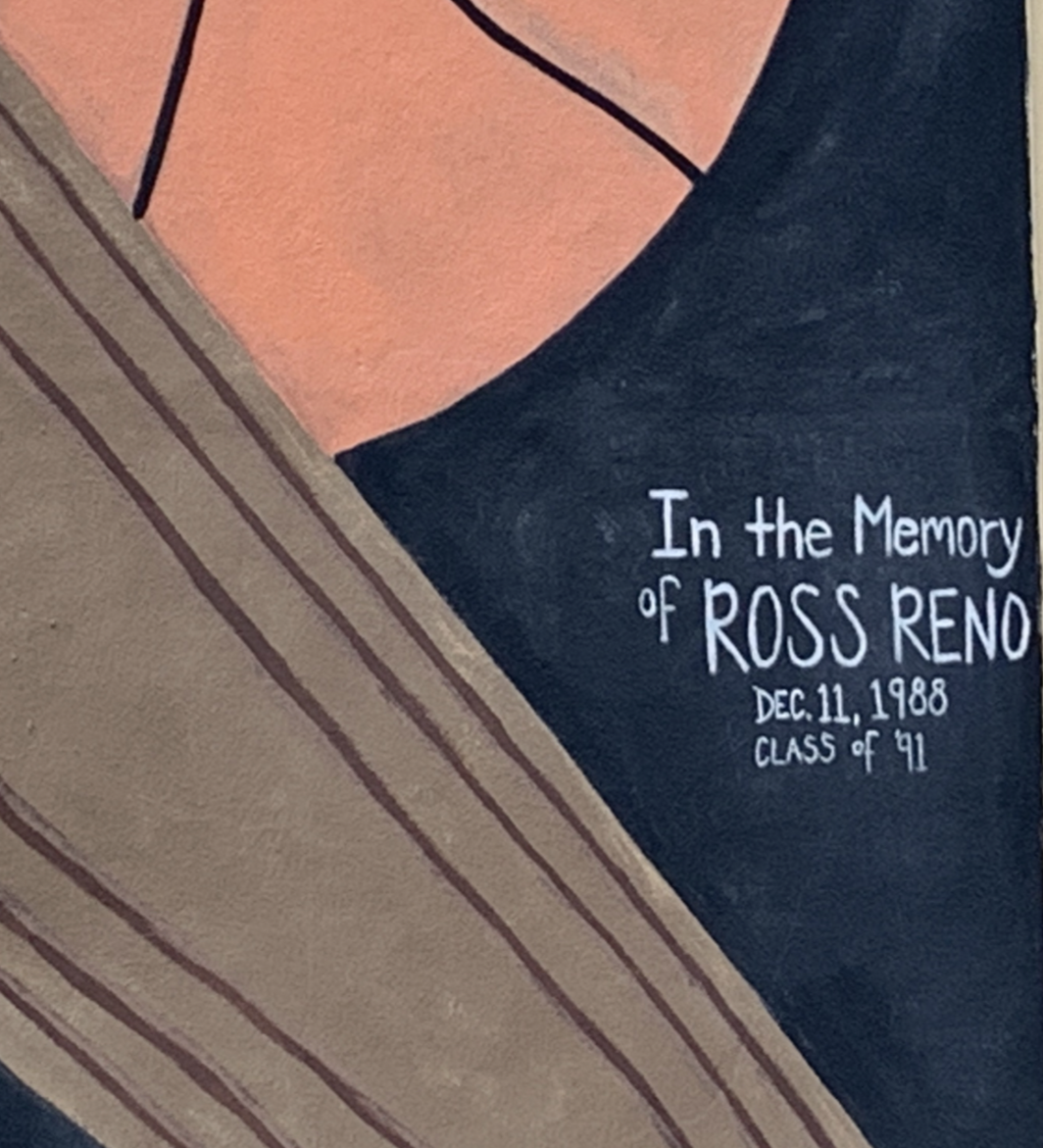 There is also a memorial to former student Ross Reno on the gym, which his friends painted in his memory after his death in 1988. He was a paperboy who was riding his bike past Miwok elementary school when he ran into a pickup truck and died.
Brett Callan, another former student, died in a car accident in 2004. The Brett Callan basketball tournament occurs every year in his honor, and his jersey is hung up in the gym. There is also a memorial dedicated to him on the edge of the OLÉ by the end of the R wing.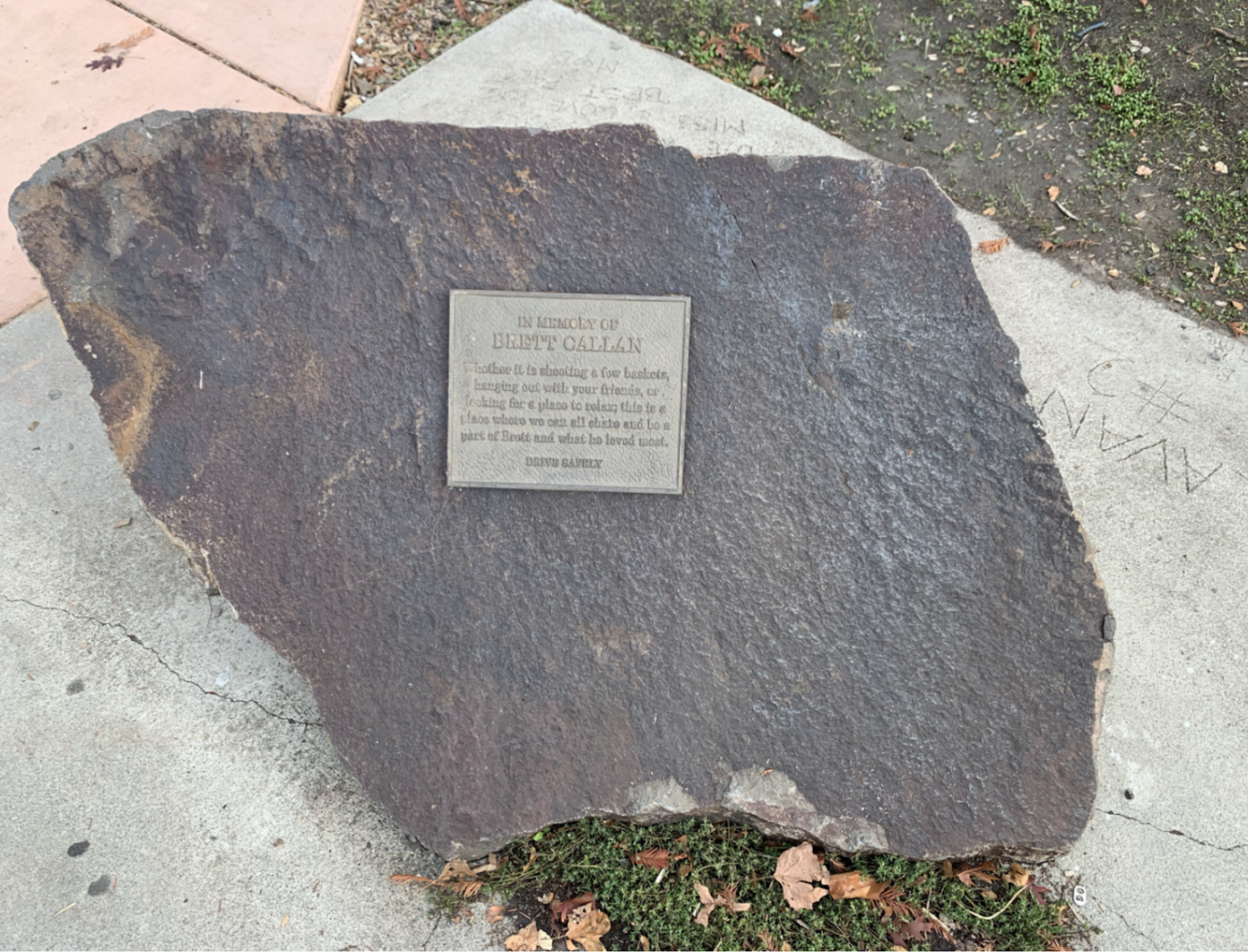 Biancalana, who knew many of the people these memorials are for, shared her thoughts.
"It's kind of sad because after a while, a lot of the stuff on campus is for people that died. There are a lot of things around here that say 'in memory of' but people don't even know who those people are" said Biancalana.
She went on to explain a few of those projects currently on campus, including the pencil sculpture, Mr. Creighton's sundial, and the pizza oven. The pencil was a senior project by a student in sculpting class, and it was a Ticonderoga pencil and pink eraser until it was defaced a few years ago. Someone poured blue paint over it, so the school decided to paint the entire sculpture white. Creighton's sundial is in the OLÉ and is a working sundial that was constructed last school year when students were on zoom. The pizza oven, also in the OLÉ, was donated by former student Jim Kimball and has been used by teachers such as Mr. Adams and Mr. Mander in the past.
Casa Grande High School was established in 1972, and a myriad of murals, memorials, and traditions have amassed ever since. From pizza ovens to the OLÉ itself, Casa has a rich history that can be revealed by simply walking through the halls.