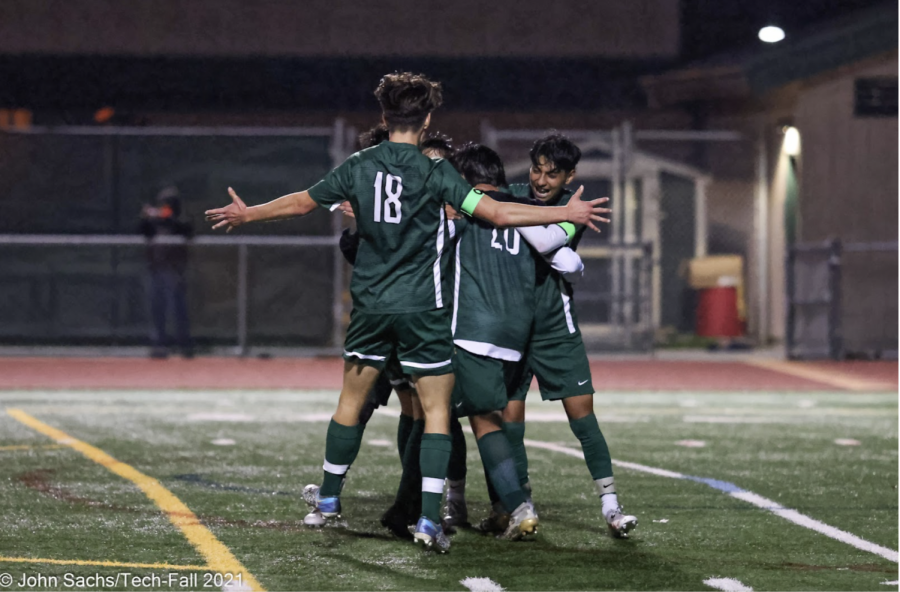 Boys soccer is back in full swing at Casa Grande. The past soccer season consisted of a limited amount of games due to the effects of the pandemic, and the glory of a typical season seemed lost. Early into this year's season, however, varsity produced convincing wins against Rancho Cotate and Maria Corrillo. This season's early success has continued building excitement toward the remainder of the season. Where did Casa soccer find this new level of competition? It turns out they have had it for the past four years.
This year's varsity team has 13 seniors, all of which have played with each other since freshman year, resulting in a team with great chemistry and a strong feeling of family. The maturity and leadership of varsity's players were showcased during last season. With the season taking place during the early rise of the COVID pandemic, circumstances were unusual. The team was deprived of practices before their first game, and several games were canceled due to COVID. At the end of an unprecedented season, Casa finished with a respectable record of 6-3-1.
It is not just the experienced seniors contributing to their great start to the season. Coaches Jordan Schlau and Kevin Richardson have also guided Casa's soccer program in a promising direction. Both Schlau and Richardson are now coaching the junior varsity and varsity teams. Beginning in 2013, Schlau served as a volunteer coach for his former coaches running the soccer program. His new role led him to take the reins of junior varsity head coach. As the junior varsity coach, Schlau teamed up with Richardson, and together they have built an accomplished soccer program. 
Although Casa has not been able to finish atop the league standings, Schlau and Richardson have implemented a system, and Schlau believes the upside of this process will show this season.
"We have 13 seniors on varsity that started together freshman year. The last 4 years we have been preparing for this season, and I believe the team is prepared and motivated to make this the best year yet," said Schlau.
Through the first few games of this season, all the work the seniors put in the past four years is paying off. At the end of November, in their first game of the season, Casa defeated Rancho Cotate 5-0 in dominant fashion.  
After the win, Schlau had only good things to say about the varsity squad.
"This was a great result against a Rancho team that is always a tough matchup for us. It was impressive how good our passing looked as well as our team chemistry. We looked like a very prepared team," Schlau said.
Their team chemistry looked strong because, as Schlau describes, Casa's soccer program is centered around the idea of being the best teammate you can be.
"One of the most important values for the program is how much we focus on coming together as a team. We focus a lot on our character, both on and off the field. We want to always be elevating our teammates and building each other up. It's a very selfless program," Schlau said.
As Richardson explains in a Press Democrat article "It was all about team for Casa boys soccer," soccer at Casa is more than just practicing and playing on the field.
"We do want to make them better soccer players, but we also want to make them better men," Richardson said. 
As of December 14, varsity's record stands at 3-0-1, with the third win coming against Santa Rosa. This could be the start of a memorable season for the Casa soccer family.