Attack of the Tomato Soup: How One of Vincent Van Gogh's Famous Paintings Was Vandalized by Climate Protesters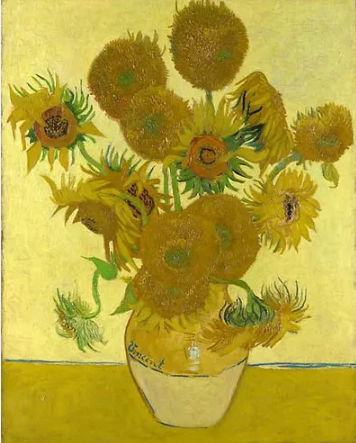 Two women, protesting for Just Stop Oil, a climate activism group, threw two cans of Heinz tomato soup over one of Vincent Van Gogh's world-renowned paintings, Sunflowers, on Friday Oct. 14, 2022. Despite many onlookers calling them out on their behavior, the two remained adamant in their mission to promote climate activism.
Created in 1888, the painting was hung at the National Gallery in London. It was part of a series of other colorful paintings that were meant to depict the spirit and cycle of life itself.
The gallery confirmed that the incident occurred in Room 43, where Sunflowers was shown. Both women were forcibly removed by the London Metropolitan Police and charged for the act of defacement.
Prosecutor Ola Oyedepo said the women didn't harm the oil painting, for it was protected by a glass protective case. "There is some minor damage to the frame but the painting is unharmed," a spokesperson told CNBC. Shortly thereafter, Sunflowers received a thorough cleaning and returned to its place in the National Gallery on that same afternoon.
Just Stop Oil was founded back in February of 2022; it was created to put pressure on the UK government to stop new and existing fossil fuel agreements. It is a union of many different groups that got inspired by the organizers from the Insulate Britain and the Extinction Rebellion.
Now, climate activists from Just Stop Oil have had a bit of a history of targeting art galleries in order to draw attention to certain suspicious fossil fuel sponsorship deals. The group of protesters and activists has been targeting other artworks in other British museums. In July, they stood in front of a frame of an early copy of Leonardo da Vinci's The Last Supper at London's Royal Academy of Arts, as well as John Constable's The Hay Wain in the National Gallery.
"This action has been so effective that the National Gallery cut ties with fossil fuels in 2018," stated Novara Media. 
Attacking now was a way for them to draw attention especially on a famous and well-loved painting. The group received some recognition, and some backlash as well. Perhaps it is true that society should begin investing more resources into stopping climate change. But the events that played out at the National Gallery, if anything, did quite the opposite.
Leave a Comment