Aircraft Overturned at Petaluma Airport after Bumpy Landing; Pilot Unharmed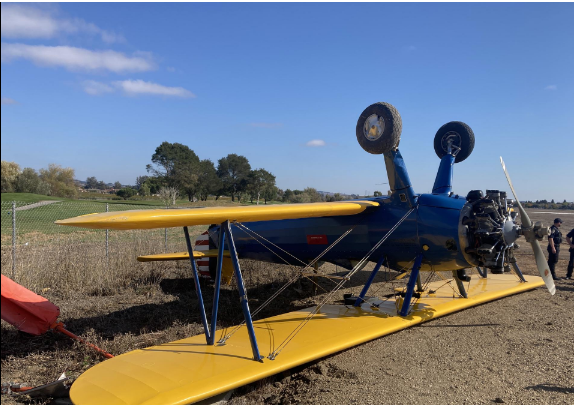 The Petaluma Airport saw some action on Oct. 15 when a 1942 Stearman biplane was flipped upside down just after landing.
According to reports, the plane was coming in for a landing to the airport as usual, but the pilot was taken by surprise by a sudden gust of wind. He made a last second correction just prior to landing, but this caused the aircraft to bounce, swerve off the runway, strike a concrete housing and run down a wind sock before finally flipping upside down and coming to a stop.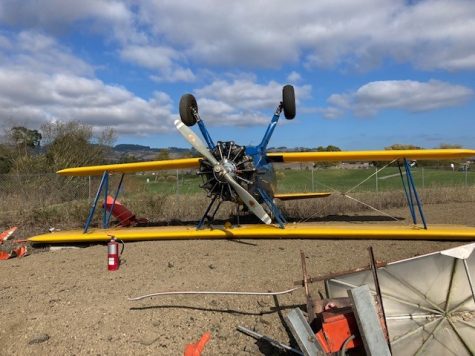 At around 2:40 PM, personnel from the Petaluma Police Department and the Petaluma Fire Department responded to the crash after receiving a report about the incident. Personnel from the Rancho Adobe Fire District in Penngrove also responded to the scene.
Thankfully, by the time the first responders arrived, the sole occupant — the pilot — had already self-extricated himself from the now crippled airplane.
"The pilot was properly using his safety equipment and thankfully he was uninjured, " stated a Nixle report issued by the Petaluma Police Department.
However, firefighters discovered that gasoline was leaking from a damaged portion of the biplane, which they were successfully able to seal and contain. Other than that, the airplane was still in decent condition.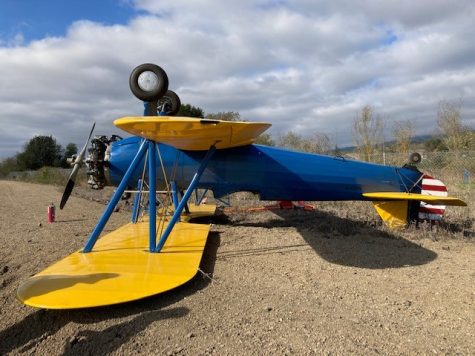 "The plane was relatively intact and it appeared it only sustained minor body damage…" stated Lieutenant Garrett Glaviano of the Petaluma Police Department.
According to a Petaluma Fire Department press release written by Battalion Chief Kevin Weaver, "An investigation into the incident, and removal of the aircraft, are pending and will be completed as soon as possible."
This is a developing story. Updates will be provided as they are made available.
Leave a Comment