Wellness Week at Casa
We are headed into the cold winter months: a time when motivation tends to be low, and student life can become overwhelming. The end of the grading period approaches, and the pressure is on, especially for seniors. College applications are coming due, and the Nov. 1st early action/decision deadlines for many colleges have passed, or are fast approaching on Nov 15th. 
Many students may remember last year's Wellness Week. The Wellness Week activities–especially the Board of Notes–brought in many students to share their supportive messages. Many more students passed by to read these messages for support or out of curiosity. In previous years, the Casa ASB team had uplifting chalk messages written around the school, similar to the lasting "Gaucho Up" motto visible entering the OLE from the Student Parking Lot.
The student body went through many challenges this year and in recent years. Wildfires, The Pandemic, and many other major issues unique to Casa. Whether it was threats to students' lives or losing beloved community members, it was understandable that they were beginning to take a toll on students' mental faculties. But together, the Casa community stood strong against the forces of evil and banded together in complete unity
These activities: spirit week, wellness week, contests, and other traditions all improve student mental health and bring us together. They also remind the student body that their community leaders care about their well-being and are here to support them. Fortunately, Wellness Week is planned to be similar to last year. Take a look!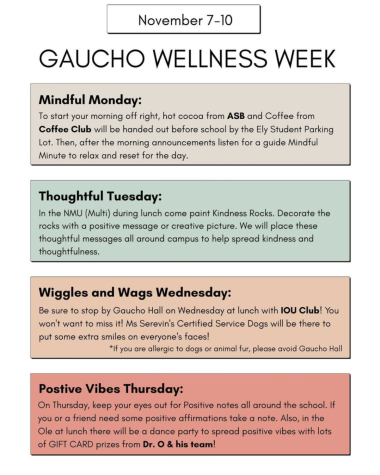 Leave a Comment