Meet Casa Grande's exclusive 10,000 Degrees College Access Fellow Karoline Reynaga
10,000 Degrees is a national nonprofit organization whose primary focus is supporting students with college and career readiness. The 10,000 Degrees organization is located all over the Bay Area. The organization is of benefit to younger students in middle school up to high school students preparing for college. The main target of 10,000 Degrees is lower-income students, so they can get extra financial help if needed. However, 10,000 Degrees is still open to any student needing more support.
Karoline Reynaga, a college access fellow with 10,000 Degrees, explains that working with students is "different and unique" to her. Various students come to visit her for different reasons, such as students booking appointments with her for post-secondary education advice, financial aid application assistance, and college application support. Other than just meeting with students one-on-one, most of her days also include reaching out to different classes and informing them about certain school events and presentations that could benefit them. Reynaga further spreads the word on what and who 10,000 Degrees include by working with fellow counselors at Casa Grande to create a positive learning environment to aid students. She goes on to emphasize this positivity by being able to do 10,000 Degrees-related events "…including the 10,000 community space" in which she meets with students every other Friday in where she is able to create a safe place for students who are integrated into 10,000 so they can all work together on financial aid applications and college applications and be able to have a 10,000-degree community at Casa Grande. Reynaga not only influences the English-speaking community, but because of her bilingual abilities, she is also able to aid Spanish-speaking students of Casa as well. A primary example is one of her most recent presentations, where she presented an "ELD PowerPoint presentation in Spanish."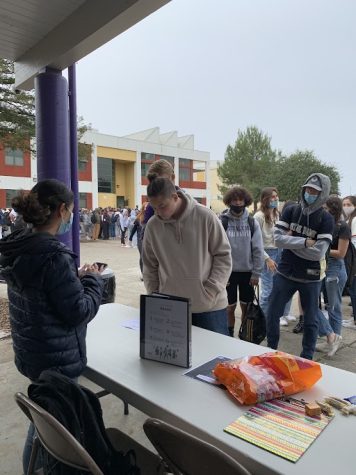 Reynaga explains that her interest in becoming a college access fellow was primarily because she is a "first generation student and was in a program called 'Upper Bound' and was in it throughout high school, and how I was able to go to college but I had my mentors." She emphasizes how "having mentors helped dream that for [herself]" and how important it was for her to have mentors because "having someone who can believe that [she] could do that" was one of her prominent motivations. Reynaga's belief that "education is the key to success" reveals her determination to contribute as much as she possibly can to any student that seeks tips for college. Casa Grande is a school that is dedicated to fostering growth and positive change in its students, and the existence of this program is key to effecting that change.
Leave a Comment