REVIEW: Starbucks Holiday Drinks
'Tis the season in Petaluma. It's hard not to avoid the holidays as decorations begin to go up downtown, Christmas trees light up windows, and holiday songs begin to blare in grocery stores and over the radio. This season has been especially chilly, and many crave a comforting holiday drink to keep warm. Starbucks' iconic holiday drink line is a staple for the season; their flavors are classic holiday favorites that are sure to fill your cup. But the jolly red menu can be daunting, with so many options to choose from. Between the tried-and-true classics and new twists, we've tried this seasons' most popular Starbucks holiday drinks and reviewed them in terms of both flavor and festiveness.  
Peppermint Mocha (Daniela)
Turning 20 this year, the Peppermint Mocha has become one of the most beloved holiday beverages on the menu. The drink, which debuted in 2002, features espresso combined with steamed milk, mocha sauce and peppermint-flavored syrup, topped with whipped cream and dark chocolate curls.
Caramel Brulée Latte (Nazia)
The Caramel Brulée Latte is a blend of espresso, steamed milk, and rich caramel brulée sauce, topped with whipped cream and a special caramel brulée topping. I ordered the latte hot for the full holiday experience, and opted for oatmilk to make a non dairy swap. The Caramel Brulée flavor surprised me, and was surprisingly full-bodied and creamy. The caramel tastes smooth and sweet without tasting fake. The syrup is quite sugary and edges on sickly, so a non dairy swap is recommended for a lighter drink. The Brulée topping adds a unique toasted flavor that truly tastes like the real confectionary delight.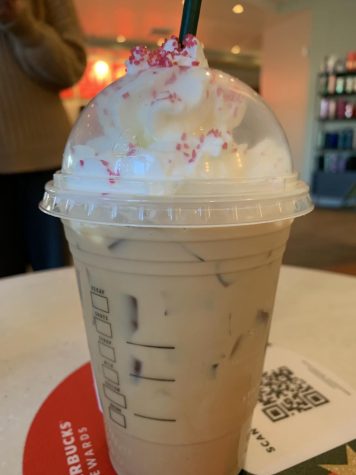 Overall, the drink is a wintertime wonder. The combination of the espresso and Brulée syrup make for a harmonious holiday sip. It's a warm embrace on these chilly and rainy afternoons, and I can only imagine how comforting it would be after an evening of ice skating or late-night studying for finals. I recommend this drink for all, especially caramel lovers — it's no surprise it's a holiday favorite. To those concerned about the sugar, a non-dairy swap or lessened caramel sauce proportion upon request can adjust the syrupy sweetness to one's liking.
Sugar Cookie Iced Almond Milk Latte (Maci) 
When you think of Christmas, memories flood of setting out cookies for Santa Claus and carrots for the reindeers on Christmas Eve. The Sugar Cookie iced almond milk latte is your Santa cookies wrapped up in a coffee cup. Or is it? Mixed reviews have sprinkled in claiming it as an unreliable drink. Sources state that the drink was only good when it first came out, and has slowly declined in its satisfaction. Initially Natalie Labanowski recalls, "The first time I ordered the Sugar Cookie Latte, it was delicious; it tasted exactly like a sugar cookie!" However, as the season continued she stated that "it just didn't taste like it had at the beginning. They never had the sprinkles and started lacking in flavor. This is not the first negative review that has been reported: Analisa Ciolino insisted that her Sugar Cookie latte tasted "exactly like you'd imagine a sugar cookie candle would smell," yet not in a positive manner. 
A majority of reviews on the Sugar Cookie Latte have been that Starbucks is consistently running out of the drink all together. I myself have attempted to order this drink on multiple occasions, yet it was unavailable. Hopefully Starbucks restocks their supplies briskly so that future customers have an opportunity to taste the drink for themselves.
Leave a Comment