Snowfall Hits Sonoma Mountains East of Petaluma for First Time Since 2018
During the last week of February, Petaluma residents were brought a very pleasant snow surprise! Even though the snowfall was 5 months late for the holiday season, it still brought a plethora of joy to the residents of Petaluma.
The snow lasted roughly a couple of days, which sprawled throughout the hilltops of Sonoma Mountain, but it didn't just persist in the hills of Petaluma. Destinations who rarely see this kind of weather, such as Sacramento, San Francisco, and Mono County, were also shocked to see the ground covered in white.
The cause of the snow was from a Pacific storm that the West Coast has been battling for weeks.
Throughout these past couple of months, the rain and eventual snowfall that California has been facing is due to several atmospheric rivers. According to KCRA3, "An atmospheric river is a long, narrow band of tropical moisture that gets carried along mid and upper parts of the atmosphere."
While Petaluma has been filled with puddles and dreary weather since the beginning of the year, this instance of extraordinary weather was a great time for kids and adults to get outdoors and experience it. Mainly, students at PCS schools decided to have a fun time and make their way to the snow.
Groups of Petaluma High School and Casa Grande High School students accidentally came together on Sonoma Mountain and, ultimately, had a massive snowball fight. Luckily, the resident of the property on Sonoma Mountain where this occurred was kind enough to allow people to play on his property. From foes to friends, this snow has caused a stronger sense of community for the students of Petaluma.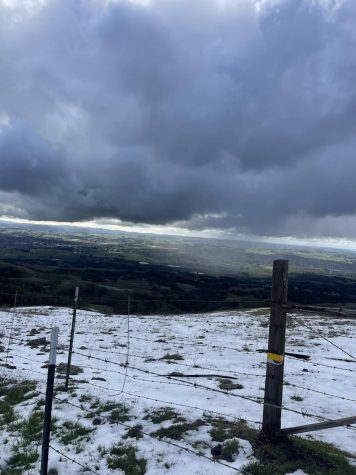 Casa student Ava Naworski, a participant in this snowball fight says, "it was such a genuine and fun activity. Everyone there was smiling, [and it was a blast and felt like we were kids again.]" 
During the snowfall, another Petaluma resident said, "I was planning on going to Tahoe today, but I can wait until tomorrow. I have to experience the snow in my hometown."
Although it may be a while before Petaluma citizens see snowfall in their town again, this joyous time with these white-covered mountains was enough to fill the spirits of residents up until summer begins.
Leave a Comment