Assuming Your Civil Duty: Casa Grande Seniors Travel to the Sacramento for a Joint Legislative Committee Meeting
Casa Grande students piled on to two massive buses on Thursday, April 20 for a class trip to the California State Capitol in Sacramento. This directly relates to the curriculum in the Government and Economics classes that seniors are required to take.
Approximately 90 students were in attendance for the trip. Ms. Cain and various other teachers were also present to attend and chaperone the event.
Students were able to witness a Joint Legislative Committee meeting at the Capitol. Senator Mike McGuire, majority leader of the California State Senate and hailing from Healdsburg, touched on various issues such as California's climate change goals. The hope is that California will solely have zero-emission vehicles by 2030. There are also lofty greenhouse gas emissions reductions on track to happen; California is the leader in the nation in that aspect. 
The job of this committee is to ensure that words meet action, that the appropriate steps are being taken to secure these ambitious goals. Bills that are passed have to move through the various committees and are then passed onto the Senate.
Casa Grande High School was also recognized during this meeting by Senator Connolly. Both groups that attended were recognized.
An anonymous senior that attended the trip recounted their experiences:
"It was refreshing to talk to my local representatives about situations and issues that will affect me in the future. It is nice to know that they are actively lobbying for out benefit."
The overall sentiment was that the seniors who were able to attend this experience were very grateful for the opportunity and truly felt enriched at the end of the trip. Becoming informed about and involved in local, state, and national issues is not only a CGHS graduate profile, but also the duty we have as citizens to help institute the change we hope to see. 
Senior Owen Davis tells his account of the trip:
–
The day began in the student parking lot bright and early at 7:00 in morning. Everyone piled on to the two tour buses parked there, some in suits and ties who had read the instructions we had been given a few days prior and some who had apparently neglected to read that memo, showing up in plain shorts and a sweatshirt.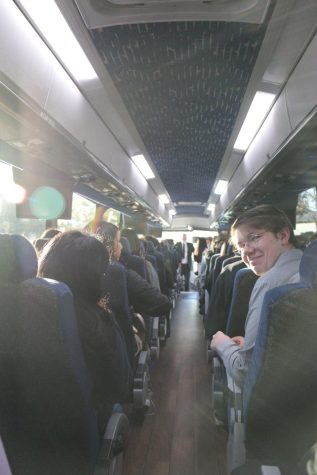 Everyone got settled, the chaperones did their final checks to make sure everyone out on the sidewalk was accounted for, and the buses took off out of the Casa parking lot and onto Ely Boulevard.
We headed towards Napa on SR-116, then hopped on the 12 to get to Interstate 5 which would take us to Sacramento. The atmosphere in the bus was relatively lively, though not particularly loud as many people, myself included, were still trying to wake up after having gotten out of bed at 6:30, 6:00 and even 5:30 that morning. Other than that, however, the drive over was rather uneventful.
Once we got there, everyone exited the bus. The chaperones went about their duties of making sure everyone was accounted for and verifying that no one had set anything on fire. Before long, we left towards the capitol building.
Now, it is important to note that I had my DSLR camera with me that day. I knew that such a field trip had a great deal of journalistic merit and worthiness to it, and as such, it simply wasn't an opportunity I could refuse. Therefore, as a member of Journalism, it was essentially my duty to ensure that it was covered equally, fairly and well, and taking photographs of the event greatly aided in accomplishing that goal.
Thus, I found myself quite recently stopping and starting as we walked along the promenade surrounding the capitol building, trying my best to get good shots of both the crowd and the content — in this case, the exterior of the building itself.
We made our way to the other side of the building and entered through the security checkpoint, which thankfully wasn't as much of the rigamarole as I was initially expecting. It was nowhere near the chaotic mess that is the airport TSA checkpoint, and I was glad that I was able to bring my camera past without it being confiscated.
We gathered and waited in the rotunda for about 5 minutes or so before being led to the upper level where the viewing galleries for the State Assembly and the Senate were. There were way too many of us to fit into one chamber, so the group of 90 was split into groups of 45 students or so.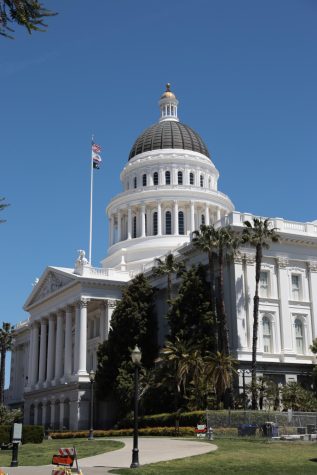 I made it into the group that visited the Assembly gallery first. We all waited outside the gallery entrance while a smaller group of students from a different school went in before us, watched briefly and then came back out.
Entering the gallery, we all saw a magnificent sight. The Assembly floor was a rather large room consisting of walls with decorative ledges and columns akin to its origins when it was originally built in 1874. The carpet was green and there were multiple fancy-looking chandeliers hanging above the area.
Desks dotted the floors below, almost all of which had assembly members sitting in them with devices powered on and ready to jot down notes. The device of choice definitely seemed to be the iPad Pro with a magnetic keyboard attachment.
On top of all of that, they had an interesting piece of technology that I hadn't expected at all. On both sides of the Clerks' Desk and right behind the Speaker's seat were these large customizable electronic signs. The middle one showed the current order of business and/or the Assembly Bill being discussed, and the two more elongated screens on the sides showed the names of every Assemblyperson that was present for that session. This was rather convenient for us as viewers, as the screens also showed who voted for what whenever a vote was taken.
At the front of the room, the Speaker of the Assembly stood poised in a central elevated position in a gray suit and tie, along with various other clerks in professional attire. Before them were all 80 members of the California State Assembly, some standing, some sitting, some chatting with their colleagues. As Ms. Cain pointed out, it was very similar to what one might see in a school classroom.
We all watched for about 20-30 minutes or so, and near the end, the Speaker recognized Assemblyman Damon Connolly for an "important announcement."
Turns out that he knew that Casa Grande students would be visiting that day, and had requested time to speak so that he could personally recognize us in the gallery. Once he did, the room burst into applause. Everyone sheepishly stood up to acknowledge the recognition, some waving their hands, some smiling, some looking around at all the assembly members.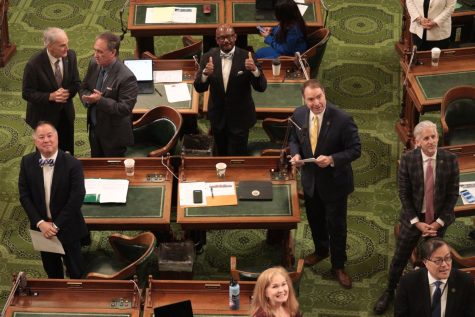 What's even cooler is that we all wound up on television! The Assembly always records its floor sessions and today was no exception. If you go onto the California State Assembly website and look for the video file of the Floor Session for April 20th, 2023, you'll see right around the hour and half mark of all of the students in the gallery. And you'll see me taking pictures with my camera!
This was one of the highlights of the day, and it kept getting even better!
Shortly thereafter, the Assembly adjourned for the day and all of the assembly members began filing out like students leaving 3rd period on a Friday afternoon. Our group followed in close pursuit and we headed for the Senate Floor, passing the other group (and a very boldly prominent wall portrait of Arnold Schwarzenegger) on the way over there.
We stayed for less time in the Senate Chamber and by the time we got there, there didn't seem to be much activity. It was rather quiet there, so we only looked around and sat for about 5 minutes before getting up and leaving again.
It was fascinating to see some of the subtle differences between the Assembly and Senate floors. The Assembly seemed pretty chill and laid back: you could sit wherever you'd like, the assembly people below weren't shy when it came to voicing their opinions and making remarks and from the viewing area, there was a clear unobstructed view where one could see everything happening down below.
The Senate on the other hand felt a lot more uptight and strict. There were clear plastic barricades on the rails of the viewing area making it difficult to peer downwards into the floor, it was much quieter than the Assembly (though that might have been because of the fact that we got there later than the first group) and they had a much stricter bag policy for guests.
As we were getting ready to leave the capitol building, one of my friends, Preston, met his uncle in the rotunda. He was in the CHP as part of the governor's protection detail and happened to be in the capitol that very day.
He accompanied us out of the building and after another round of the chaperones checking to make sure no one had been left behind, we set off for the legislative office building. It wasn't very far away — perhaps a minute walk or two. 
Here, I saw another fascinating detail — the fact that the CHP was charged with providing security for the building. It is not often you see CHP officers in that capacity; usually, they're in one of two places: the highway or the on-ramp that leads to the highway. Seeing them standing there with stoic expressions and well-pressed uniforms that demanded attention, respect and authority was rather comforting.
We all made it inside past another round of security, but the three congressmen we were supposed to meet hadn't arrived yet. So, everyone sat down along the windows in the benches that were there and began attempting to kill time for about 30 minutes.
Preston's uncle, who was still chatting with him, suggested that some of us go up to the eighth floor of the building for a quick little private tour. Preston and I agreed that was an excellent idea! We gathered a few more people, told some of the chaperones where we were going and then we headed off!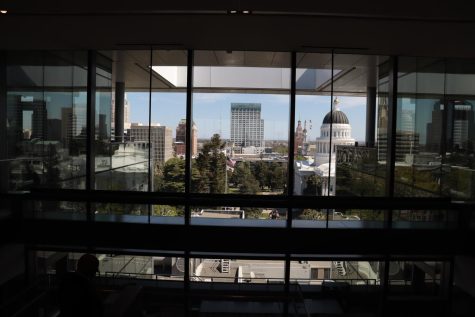 I certainly hope no one thought we were getting arrested or anything — I'm sure it probably looked mighty suspicious being led to a backroom by a G-man looking fellow in a suit with an earpiece.
All was well of course. Passing the entrance door, we entered a hallway that just screamed "If you don't work here, you're not supposed to be here." We walked down a ways until we reached a set of elevators. Preston's uncle enlightened us as to the reason there were three separate elevators. 
Many people think that as the Governor of California, you're the person who controls everything and has the final say in things. Really, it's quite the opposite. The Senate and the State Assembly are the ones who have the final say — the governor just helps move things along. Because of that relationship, there is this high level of separation between the governor and both legislative houses.
That separation extends to these elevators: one elevator is for Assembly and Senate personnel, the other is for the governor and only the governor aside from his security detail and our little group that happened to stumble into it.
That's right. We essentially got to ride the governor's private elevator.
Preston's uncle took us to the 9th floor and showed us around the "headquarters" for the governor's protective detail. His office was apparently right beneath us.
We walked down a set of steps to the 8th floor and admired the gorgeous view we had of the Capitol building down below. We also got to see this massive grizzly bear made of copper that was apparently donated to Arnold Schwarzenegger when he was still in office and take a few fun photos in front of it. It was fantastic! We all felt like important VIPs on official government business while we were up there.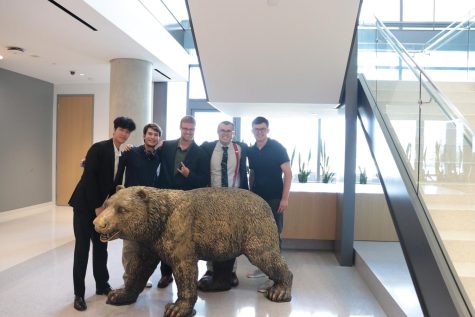 After about 10 minutes, we took the elevator back downstairs and Preston said goodbye to his uncle, but not before we all thanked him graciously for such an in depth little side-tour!
We milled around for only a moment or two longer before our first congressman arrived: State Senator Mike McGuire.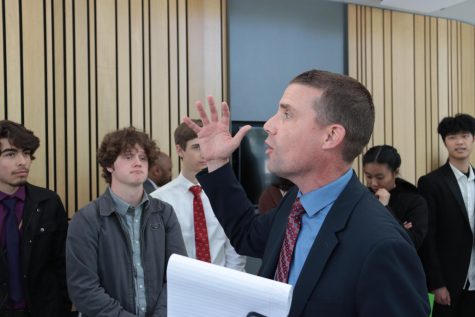 This guy had some serious energy! It was practically contagious. He spoke for about 10 minutes on a variety of different topics and bills he was supporting, and every moment he spoke, the entire group seemed to be fully engaged. He had a great deal of drive and passion for his profession, and I most certainly respected that.
Eventually, he had an important committee meeting to attend, and he left with his secretary. The timing was quite perfect, though, as Assemblyman Connolly walked in and met with us at about the same time.
He also spoke to us on a variety of different issues and answered some of the questions about legislation that he had supported or planned to support in the future. He was definitely more reserved than Senator McGuire, and spoke in a softer tone of voice, but still got his point across. He did so calmly, coolly and with a great deal of compassion. That really shined through and made the experience all the more enlightening.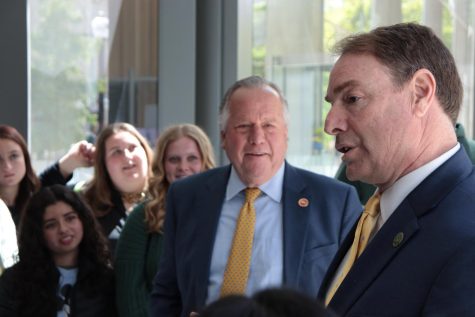 As he was finishing up, the other State Senator assigned to our district, Senator Bill Dodd, arrived and began greeting us all. He also greeted Assemblyman Connolly with open arms. These two seemed to know each other rather well; almost as if they had been lifelong friends and had been making legislation happen in California together since they were toddlers. Both of these men seemed very personable and approachable, and that's what made them very likable.
Both of them answered questions simultaneously for a while, and after some time, Assemblyman Connolly had business to attend to and made an exit, leaving Senator Dodd to answer more questions.
Another round of enquiries from the attendees ensued before Ms. Cain and the chaperones called for a group photo. I lent Ms. Cain my camera and we took a lovely group photo with Senator Dodd in 24 megapixel quality.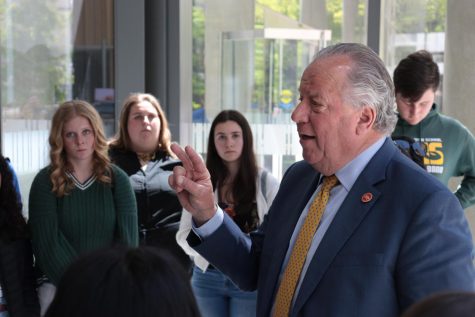 The bus was absolutely roasting hot and everyone was begging for the AC to be turned on right away. The warm sunny day made for excellent photography conditions, but it was unbearably warm; the fact that most of us were wearing full suits and ties with blazers (myself included) was not helping the situation.
Luckily, the bus driver was probably dying as well, so he understood that he needed to get the show on the road as quickly as possible. The engine roared to life, the AC fans began pouring sweet sweet cool air into the cabin and after a few short moments of waiting for an opportunity to merge into the next lane, both buses departed from the curbside.
After a long day of traveling, visiting the Capitol and seeing the various sights and sounds of the core of the California State Government that is Sacramento, everyone was absolutely fried. We were all exhausted, and while the ride back was certainly livelier than the ride over, it wasn't too hard to tell from everyone's facial expressions that everyone would sleep like a rock that evening.
We arrived back at school at around 3 p.m. or so. There were still a few minutes left of class, and some people just went over to the library to hang out until the bell rang, but I elected to just walk home.
All in all, I had an absolutely splendid time on that trip! Not only was it extremely enlightening to see our systems of government in action right before my very eyes, but it was great to be able to experience it with my friends by my side in a professional capacity. If given the chance, I would go on this trip again in a heartbeat!
Leave a Comment