The Writer's Guild of America, or the WGA, has been on strike since early May against the Alliance of Motion Picture and Television Producers (AMPTP). This comes as the union is negotiating a new contract, and with the advancement of new technology like streaming services and ChatGPT, getting a fair deal has become more difficult than ever.
The WGA was founded in 1933, and represents writers from many different types of media and from coast to coast. Every three years, the union meets with the AMPTP to come to terms on their new contract. The two groups began negotiations in April of this year but were unable to come to agreement by the mandated deadline of May 1.
One of the main points of friction between the groups is the payment of residuals. These are long-term payments to anyone who worked on a television show or movie that is rerun or aired after its release date by a network. With the addition of streaming services, big companies like Disney and Netflix have turned to monthly subscriptions for a large percentage of their revenue. Writers believe that if the companies receive this much money from their work, then they deserve a portion of that income.
While this is great for the companies, writers only receive a small portion compared to what the Hollywood giants make. For instance, Valentina Garza, a well-known writer on The Simpsons, shared that she only made one and two cents in residual checks for writing two episodes of Jane The Virgin, a show that made millions in revenue.
Streaming services are not the only new technology that have recently arisen. A.I. is a new issue being brought to the negotiating table, with the WGA asking for regulations on the technology like preventing it from changing already written dialogue. The AMPTP offered a different deal with "annual meetings to discuss advances in technology." The writers resisted, with picket signs saying "AI? More like Ay-Yi-Yi!"and "Don't Let ChatGPT Write Yellowstone."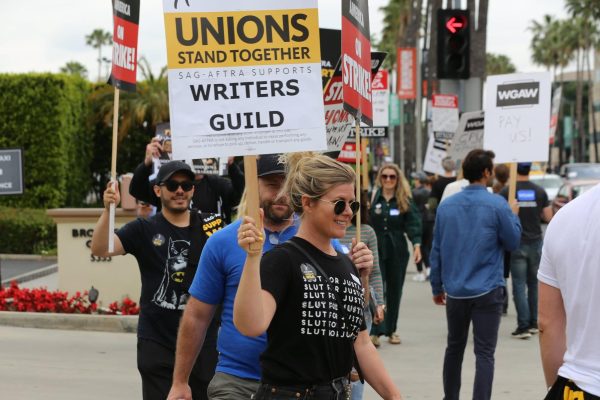 Another disagreement between both parties is the use of "mini-rooms." They are similar to a writers' room, where a group flesh out a story and make a script even before a show has been greenlit. Mini-rooms use fewer writers that are contracted for shorter time periods, which leads to less job opportunities and lower paying work.
With the strike, many productions have been either put on hold, had their premiere dates pushed back, or gotten production canceled altogether. One of these include the long-awaited Dune: Part Two, which was pushed back to March of next year. The live-action version of the musical Wicked also had to be halted due to the strike, even though they were just ten days away from finishing the entire filming process. 
However, not every set in Hollywood has gone silent. Filming of the HBO series House of the Dragon season two is continuing due to several technicalities. Ryan Condal, showrunner and WGA member, has stayed on set in a strictly non-writing role. The show is still expected to be released by summer of 2024.
Studio executives have had very little to say about the strike. "But the studios' rhetoric makes it clear that, in their ideal world, writers wouldn't even have the benefits and guarantees they currently possess." says reporter Eric Thurm. Negotiators for the WGA reported that AMPTP President Carol Lombardini said, "Writers are lucky to have term employment."
Though the writers have been on strike for more than 100 days, there is no end in sight.