After over 3 decades of service in the Senate and many years of shattering glass ceilings, California has lost one of its champions on the political scene. Her name was Dianne Feinstein, the longest serving female senator in history, who passed away on September 29, 2023 at age 90. But even as the US continues to reel at her loss, her trailblazing legacy remains as one of courage.
Feinstein first became mayor of San Francisco in 1978 after the dual assassination of Mayor George Moscone and Supervisor Harvey Milk. Despite being thrust into an unexpected position, she took it in stride, being the first to reassure the public after the tragedy. During her near 10 year tenure in the office, she led the renovation of the city's cable car system and oversaw the 1984 Democratic National Convention there. She was even named as the "most effective mayor" in 1987 by the City and State Magazine.
She eventually became a California Senator in 1992, where earned recognition for her environmental and civil rights acts. Her Lake Tahoe Restoration Act, a $415 million funding bill aimed at restoring the environment in the Lake Tahoe Basin, was one of the largest environmental projects at the time, and it set the groundwork for future sustainability projects. Beyond that, she also took on the CIA to hold them accountable for torture. After the 9/11 attacks, the CIA detained several "suspicious" individuals who were then subjected to cruel interrogation tactics, from waterboarding to physical abuse, all of which was revealed in a sixty-seven-hundred page "torture report" that Feinstein helped compile.
While these were only two of the projects supported by Feinstein, they paint a picture of the widespread legacy she had. And though she has passed on, her work will be carried on by her successors, such as Laphonza Butler.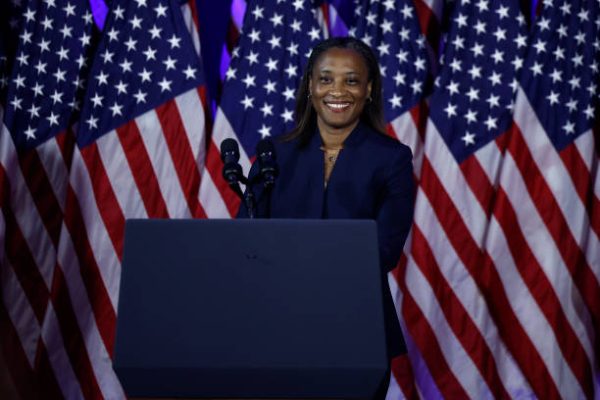 Laphonza Butler was previously a Democratic advisor to Vice President Kamala Harris' 2020 presidential campaign, but she was appointed as the stand-in senator by Gavin Newsom, California's governor. In making this decision, Newsom honored his commitment to appoint a Black woman to the senate in the case of Feinstein's seat opening. However, despite keeping his promise, many are upset with the fact that Newsom did not appoint anyone who is actually running for Senate in 2024. Some organizations advocated for Barbara Lee, long-time California Representative, to fill the vacant seat. Lee has served as a U.S. representative from California since 1998, and stands as the highest achieving African-American woman to Democratic Leadership.
Nonetheless, Butler has an extensive background in amplifying the voices of minority parties. Her past work includes involvement with "EMILY's List," an organization supporting Democratic women running for office. As a leader and democratic strategist, Butler collaborated with EMILY's List to help identify and uplift female candidates in aims of promoting gender equality and women's rights. Her experience with EMILY's list goes to prove her dedication to progressive values and understanding of the importance of diverse voices in politics.
Butler is the only black woman currently serving in the U.S. Senate, and the third black woman to serve in all of U.S. history. Her appointment is a milestone for representation and diversity in the Senate, highlighting the importance of inclusivity in our political institutions. Additionally, Butler's appointment also marks a historic moment as she becomes the first openly LGBTQ+ person to represent California in the Senate, further advancing LGBTQ+ representation in politics.
As Californians look to the future, Butler will serve as an exemplary replacement for Feinstein for the time being. As for former Senator Feinstein, Governor Newsom and the rest of the nation will honor her service to the American people.