As Halloween approaches, communities around the world are greeted with seasonal pumpkin spice drinks, halloween decorations, orange fall leaves on the trees, and most importantly, pumpkin patches! Here in Petaluma, there are a total of five different pumpkin patches, with the most popular arguably being Pronzini's Pumpkin Patch. 
This pumpkin patch offers tons of activities for children to enjoy, including bouncy houses, slides, and corn pits. Layla Lopez, a senior here at Casa Grande who works at Pronzini's Pumpkin Patch, has said, "Working with the kids is entertaining because they are unpredictable." Pronzini's Pumpkin Patch also provides food at the "Cowgirl Cafe," which has family-friendly BBQs on weekends, as well as food and drinks at the main checkout stand. Live music is also performed on weekends to add to the fun. 
As visitors walk around the farm, they will also notice the outstanding decor that is dispersed everywhere. From their vintage vehicles to their life-sized metal statues, Pronizoni's farm has many unique ornaments. One of their most creative decorations are their metal statues, consisting of things like farm equipment, ladybugs, and even a pumpkin coach with horses. Additionally, the hay bales, scarecrows, and vintage vehicles filled with flowers and pumpkins add on to the cheerful fall vibes.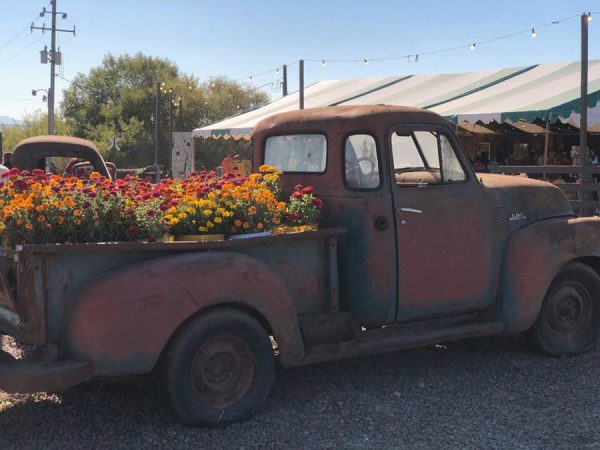 The pumpkin patch is an ideal place to go to in the fall. Visitors are able to spend time with friends and family and create memories that can last a lifetime. For less than $10, families can enjoy their day at the pumpkin patch, with admissions being 5$ per adult and free for kids 12 and under on weekdays. However, on weekends, admissions change to $10 per adult and $5 per child. 
However, the best feature of any pumpkin patch are the pumpkins themself. The pumpkin patch has a wide variety of pumpkins, which can cost anywhere from $3 to $26.50 depending on the size. While at the pumpkin patch, visitors will find traditional orange pumpkins, white pumpkins, and decorative squash that comes in different sizes and colors. Going to Pronzini's Pumpkin Patch would be a great way to spend a day with family and friends, as it provides fun activities, eye-catching decorations, and food.  So, come down to Pronzini's Pumpkin Patch while fall is still in full swing!