As senior year is coming around for many students, it is important for senior athletes to enjoy their last games with teammates. As a way to make seniors' last game memorable, senior nights are held. Senior night is a special tradition held annually on the last regular home game of the season, where seniors are recognized and appreciated by their fellow teammates. This is an event to honor seniors for their academics and progression throughout the years. Additionally, seniors who participated in their sports for all four years are appreciated for their dedication to the sport.
Traditionally, for senior night, the juniors, sophomores, and freshmen make the night special for the seniors by creating posters, writing speeches, and decorating practice rooms. Speeches are given by either coaches or fellow teammates reflecting on the season, appreciating and expressing their gratitude to the seniors. Oftentimes, underclassmen will also create posters with pictures of the seniors. 
Here at Casa Grande High School, football senior night is a big event for the athletes, students, and parents. On October 20th, the last home game of the season, the JV and Varsity football players, cheerleaders, and the audience went all out in orange for CJ Banaszek. CJ was a student at Casa who passed away from cancer years ago. He was loved by many students, and now the football team supports him by wearing orange. This was a night to remember and an honorable moment for senior football players and cheerleaders.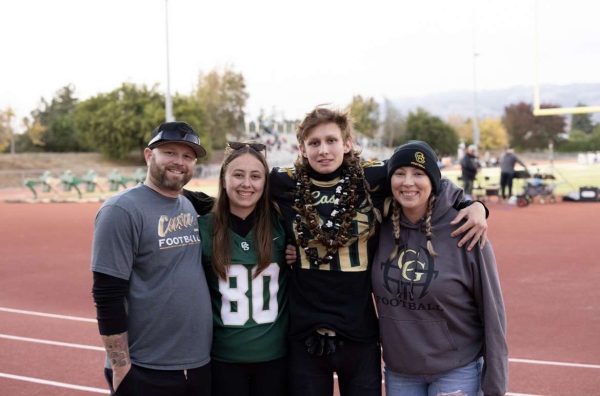 Roman Hill, a senior varsity football athlete at Casa Grande, had something special to say about his senior year and night. As he said, "Senior year was the year I have always dreamt of since I was a little boy. Walking into that tunnel, I realized how fast life goes. I am so blessed to be playing this amazing game and building a brotherhood with my teammates. I would like to thank my parents for giving me this opportunity to play football.¨
Senior night for the volleyball team was also a memorable night. A ceremony was held to celebrate the seniors during their last game and to appreciate their dedication. Both the athletes and the crowd in the bleachers went all-out in pink attire to support the athletes.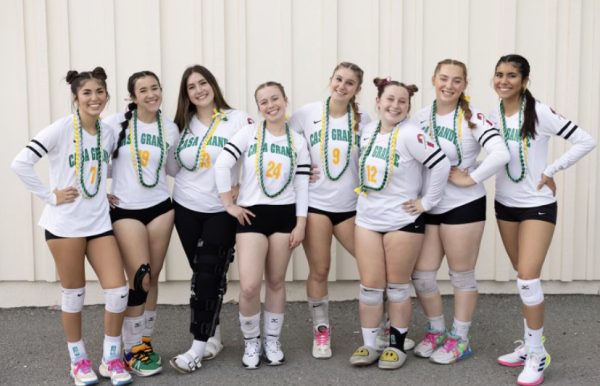 Caitlin Gloster, a senior athlete on the Varsity volleyball team at Casa Grande, had a great time playing and cheering on her teammates. She said, "All the seniors were put in on the first set. Everyone's emotions were really high because it was the last game of the season, but we all had a fun time playing our last high school volleyball game. It was the best experience."
Senior nights are meant to make an athlete's last game special. Seniors are honored for their great commitment and competitiveness throughout their years of playing sports. Coaches and parents are also celebrated for their great support of their athletes over the years. While senior nights may be the final game of these students' high school athletic careers, they certainly are an unforgettable experience and recognize the dedication that each athlete has put into their sport.