Halloween Crumbl Cookie Review
This past weekend, while many may have spent their Saturday night out at a party celebrating Halloween and a Casa Grande Egg Bowl Victory, I decided to accompany my mom on a trip up to Crumbl Cookie in Santa Rosa. 
To my surprise, the store wasn't your standard looking bakery, and had much more that appeals to the eye than your standard pastries behind glass. Upon walking in, what caught my eye immediately was their social media tablet on the back wall. This tablet displayed TikTok videos of teenagers giving their #Crumblreview, something I had always wanted to do myself.
Once I reached the counter, I noticed there was a lot more than just cookies to be purchased inside, including both regular and chocolate milk, Crumbl branded cookie cutters, and even Crumbl's very own ice cream pints. Though I was astonished by the nice selection, I decided to stick with the basics and go with the four cookies of the week. 
In case you didn't know, the most appealing characteristic of Crumbl is their rotating cookie lineup each week. This changing cookie rotation tends to contain cookies associated with the season, or a specific special event taking place during that week. I made it a priority to go this past weekend, as the cookies were halloween themed. So let us review the cookie one by one.
First up was Crumbl's classic sugar cookie base featuring Mother's Halloween Circus Animal Cookies. This one looked like it was going to be a sure winner for me, as Mother's Circus Animal Cookies have a sacred place in my heart. It pains me to say that this cookie was slightly underwhelming, as it was still very delicious. The cookie was layered with a melted white chocolate chip buttercream, which was interesting to me, as I'm so used to buttercream and cream cheese frosted desserts. This white chocolate frosting was a nice idea, but just a tad bit too sweet with the sugar cookie base. The halloween sprinkles on top added a real nice texture, and the little circus animal in the middle was divine. Overall, because of the overwhelming sweetness, I'd give this cookie a 7.5/10.
The next cookie I tried was the Pumpkin Roll cookie. Looking at the cookie list for the week, this was the one I was most excited for by far. Pumpkin bread, pumpkin cookies, pumpkin pie, pumpkin everything, pumpkin has never been able to do any wrong if you ask me. This cookie revolutionized pumpkin for me, as it combined two of my favorite things: a light and fluffy pumpkin bread with a swirl of cream cheese frosting across the top. Though I was a bit taken aback by the cookie being the texture of a bread/cake instead of a cookie, it was a nice surprise. The cookie dissolved in my mouth, almost like chewing a marshmallow, but bursting with flavor. The cream cheese frosting made the pumpkin flavor pop, and the cookie disappeared in seconds. Overall, I would rate this cookie a 9/10.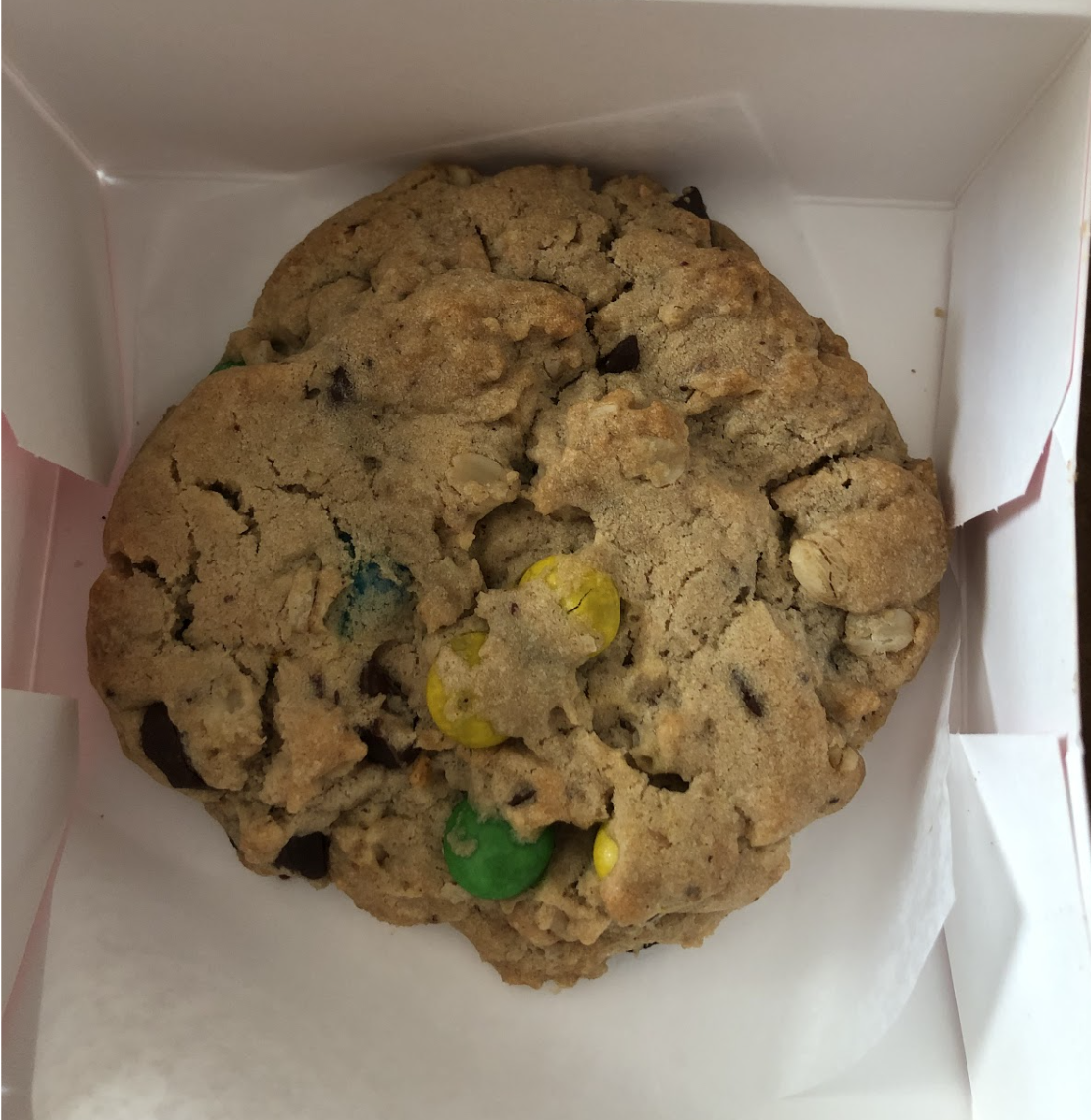 Third on the list was the monster cookie, which combined the most true cookie elements of this week's cookies. This cookie combined a traditional peanut butter cookie with an oatmeal cookie, adding in my favorite cookie mix-in of all time, M&M's. This cookie also had peanut butter and chocolate chips, elevating the cookie game to the next level. At first bite, this cookie had me begging for more. The simplicity of the oatmeal base combined with the richness of a peanut butter cookie was to die for, and the M&M's added the crunch which became a necessity. Though the cookie was dominated by peanut butter elements, I was unbothered, and it was just the right balance of peanut butter to oatmeal for me. For this reason, Crumbl's monster cookie gets a 10/10 from me.
Last but the furthest thing from least, was a cookie making its return to Crumbl but it first time appearing in my home, the Dirt Cake cookie. I was so unbelievably skeptical of this cookie once I saw it for a variety of reasons. One, I hate gummy worms. Two, I don't like a crazy amount of chocolate. And three, the cookie was HUGE. I was worried that the flavor wouldn't hit all cylinders with that big of a cookie, but wow, did it ever! The chocolate cake base was unholy, with even more chocolate frosting on top, making for a chocolate lover's dream. The cookie also contained some crunchy chocolate streusel on top, which was a great element. However, the most game changing toppings were the cookies and cream crumbs and gummy worm. The two contrasted each other, with the gummy worm adding a tart sugary element while the cookies and cream crumbs changed the taste back and forth from chocolate to a bowl of cookies and cream ice cream. This cookie was hands down the greatest cookie I've ever had and it was a 12/10 for me!
If you haven't made a  trip down to Crumbl, make sure to hit up Sonoma County's hottest cookie spot for some amazing flavors you never would've imagined in a cookie. This upcoming week's new flavors are peanut butter featuring Muddy Buddies, oatmeal chocolate chip muffin, key lime pie, and midnight mint. Run and give your taste buds a treat this weekend!