Casa Grande Hosts Schoolwide Walk-In Event, Honors Slain Montgomery High School Student; Students and Staff Call for Unity
On Wednesday, March 8, 2023, a student organized walk-in supported by the school was held in the Casa Grande OLE area near the end of second period.
The walk-in was hosted in honor of Jayden Pienta, a victim of the fatal stabbing incident at Montgomery High School in Santa Rosa just last Wednesday, as well as a call to action to combat an increasing level of school violence in communities all across the county, the state and the nation.
A walk-in is a bit different from a walk out. Rather than students leaving campus and taking to the streets to spread their message, students remain on campus, but still show support for the cause at hand, as was the case that Wednesday.
Approximately 700 students were in attendance on the warm and sunny March day according to Casa Grande Principal Dr. Dan Ostermann in an interview on Friday. Superintendent Matthew Harris was also present at the event. A separate walk-in was held at Petaluma High School on the same day.
"I was incredibly impressed with the…students that were in attendance," Ostermann began. "Their engagement, their respect and their willingness to participate…was very productive."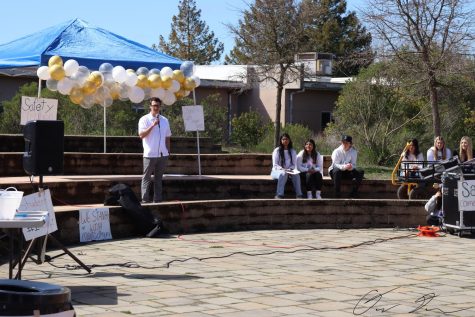 At the event, a variety of students and staff took to the stage to speak on the violence plaguing many local schools. Gauchos such as seniors Luke Cox, Diego Carranco, Preston Spencer, Nazia Quadir and Malaya Cantor voiced their concerns about school safety, as well as Dion Wilson, head custodian and beloved staff member, and Mitch McSweeny, a long-time teacher and Casa alumni. Carranco's presentation was especially well received as it was spoken in both English and Spanish, furthering the reach of his words in the student body.
"The good people of Casa Grande need to be the pillars of our community that will gladly walk the two way road that is trust," Spencer, a senior, began. "As we are working towards this goal, we need staff to be on our side too…I know plenty of teachers and staff that would gladly walk that road with us."
"This right here gives me hope," started McSweeney, addressing the audience of Casa students and staff. "Hope that we can do better, hope that we can move with kindness, and I'm hoping we continue doing that."
Once each student and staff speaker was able to share their voice, students in the audience were able to write down messages and thoughts they had anonymously to share with the crowd. One student wrote "Thank you everyone for coming together to stand up for this."
The concept of hosting a walk-in started small but gained traction really quickly.
"It started with the ASB president at [Santa Rosa High School] and grew from there," said Casa Grande ASB Director Katie Pisciotta. "In Sonoma County, ASB directors were all in communication and ASB presidents were all in communication, [so] schools all over Sonoma County [participated] in the day, each showing their own display of support and solidarity."
The event was planned and executed within a very short period of time. The initial idea started on Monday and was then introduced and executed on Wednesday of the very same week. ASB personnel handed out white ribbons for those who forgot to wear white in honor of the incident.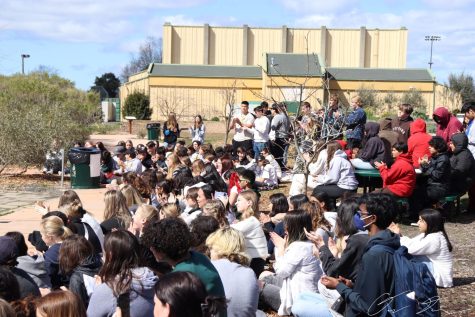 Students had the choice whether or not they wanted to participate, so some students elected to remain in class.
Students' involvement in this complex issue is not purely coincidental. The situation at Montgomery High hits particularly close to home for many Gauchos.
In the weeks prior, there were numerous incidents involving violence throughout Sonoma County. This included a homeless man attempting to gain access to the M-wing and two students storming a classroom in ski masks to assault a student.
As a result of the walk-in, many people have cited it as being a highly positive and uplifting experience for the student body as a whole.
Luke Cox, one of the key speakers at the walk-in, remarked, "It was pretty good, I'd say; having a lot of students come together for a moment of unity."
Emely Rosales-Cruz, ASB President, also discussed her thoughts on the matter, while also voicing a few concerns she had about the events that could transpire at such an event.
"…I have the best intentions for everything, but it's such a sensitive topic. You're never going to be sure what's going to happen," Rosales-Cruz said on Friday, March 10. "But the outcome and the support we got was incredible. It made things so much better."
Local publications attempted to cover the demonstrations at both Petaluma High School and Casa Grande High School. However, according to reports, journalists were "barred" from entering by order of the Superintendent of Petaluma City Schools.
In a series of texts and telephone conversations, "…it was the district's stance that the presence of journalists would constitute a 'disruption' to a 'school event,'" said the Argus-Courier itself in an article published Wednesday.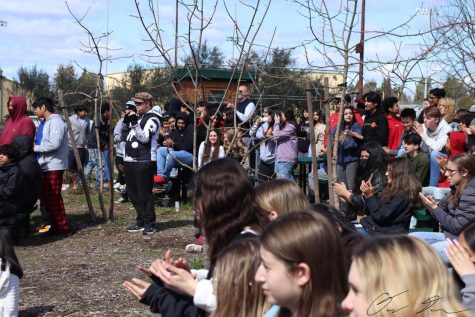 Matthew Harris, District Superintendent of Petaluma City Schools, said in a statement on March 8, "It was incredible to see our PCS community standing together in a peaceful, positive, and productive way." He noted that even though this coverage had indeed occurred, it detracted from the message of the day's events and shifted the focus away from the whole purpose of the walk-in.
Rosales-Cruz weighed in further on the issue. "I wasn't as disappointed knowing they weren't able to show up because I knew that there was so much [happening] around Sonoma County, " she started. "I knew we had the Journalism program that was going to cover [it] either way, [so] I felt confident that we were going to get…enough attention to make change."
However, it should be noted that, while the California Constitution — as well as the U.S. Constitution — permits broad freedom of speech through the press and other means, it does not specifically state anything along the lines of "The press must be allowed onto a school campus when requested." In fact, according to the California Education Code, school officials are within their rights to request any persons not associated with the school to leave the campus in a timely manner.
This action was not intended to be an infringement on the freedom of the press. Instead, it was simply a matter of school safety in which unknown individuals would be entering campus which constitutes a wide range of privacy concerns for students.
Talks between students, faculty and district administrators are projected to continue as opportunities for all stakeholders to come together and collaborate become even more abundant. Student Advisory Council Meetings, hosted by school officials, allow students to voice their concerns on a variety of issues and topics at school and make up a large portion of the movement towards greater levels of safety and security on campus. These meetings expect a high volume of participants in the coming weeks.
Dr. Ostermann ended things on a hopeful and agreeable note. "I think Wednesday was a very proud moment for our students and for our campus in general and is a testament to the strength of the culture that we do have here at Casa…" he described.
Leave a Comment