International Walk or Roll School Day Makes Its Debut At Casa Grande High School
International Walk or Roll to School Day (IWTSD) has finally made its way to Casa Grande! 
After years of Petaluma adults participating in a local Bike to Work day, Dr. O reached out to Bike Club Advisor, Scot Wigert, about how they could set a similar event into motion with its higher student participation. Wigert then reached out to other environmentally conscious clubs around school, such as Earth Club and Environmental Advocacy Club to co-host with Bike Club and gain more attention schoolwide. 
"I would like to do events like this so students can refine the joy in riding a bike while also doing something good for the planet and the community," Wigert said about IWSTD.
This annual challenge was originally created in the 1990s by the British as a way to encourage students to be active and promote safer communities. Then, IWTSD partnered with Walkable America to bring this annual act to the United States in 1997. However, the holiday didn't obtain any serious recognition until 2004, when the organization Active and Safe Routes to School began to organize local school events and have continued to do so today. 
IWTSD is not only great for promotion of traffic safety and good health; the holiday also brings light to environmental pollution. In today's climate, it is always a good idea to do your part to reduce your carbon footprint on the planet — even if it's just one day a year. By having a day, or in some places, the whole first week of October dedicated to doing something good for the environment, we get a few steps closer to combating climate change as a whole.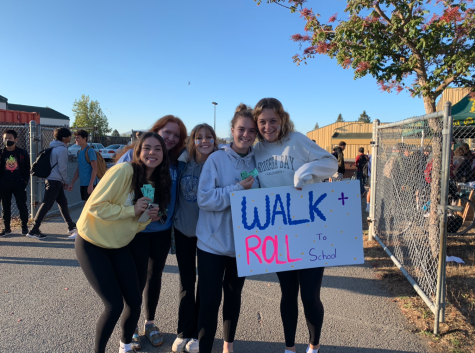 IWTSD is traditionally held on the first Wednesday of October. With that, on October 5th Casa's ASB members were up bright and early ready to greet our Gauchos with a Crumbl cookie and a warm coffee (brought to them by Casa Grande's Coffee Club) to thank the walkers and rollers for their participation. Also out there, we had Casa Grande's Earth Club, created by Cara Broadhead, Emma Olsen, and Sofie Restivo, who's club motivation is to help Casa build and maintain a more environmentally friendly and sustainable campus. Another, Environmental Advocacy Club, strives to shed light on the environmental challenges we face today, and how we can work to reduce them. 
  "It's really amazing to see the Casa community move in the right direction to work against climate change. Hopefully it'll also encourage students to find more environmentally friendly means of getting to school in the future," said Earth Club President Cara Broadhead about the student participation. Over 100 students walked or rolled to school, expanding the possibility for future events of the same type to be held. 
Hopefully in future years, IWTSD will be a continued tradition at Casa as it helps create and foster road safety, promotes good health, and helps Casa Grande reduce its overall carbon footprint.
Leave a Comment