SPOTLIGHT: Casa's New "Sonoma Corps" Career Technical Education Class
As students look to their futures, Casa's coursework and classes aim to prepare Gauchos for life after high school. Career Technical Education is an increasingly popular type of course that integrates academic knowledge with occupational skills to give students a head start on a career. Sonoma Corps, a college and career readiness program, made its debut at Casa Grande in the 2022-2023 school year. The program provides one-on-one coaching, scholarship opportunities, and paid internship experience for seniors. 
Sonoma Corps works for two years, starting during the student's senior year, where they take the Sonoma Corps class to build employability skills and become aware of the opportunities available. This includes field trips to tour local facilities, career exploration, and mock interviews. Students interview at the companies of their choice and begin their paid gap-year internship upon graduation. 
A look into Casa Grande's Sonoma Corps class gives insight into the benefits of Career Technical Education and how it changes senior plans and the traditional pathways after graduation. Sonoma Corps at Casa is provided as a one-semester class during third period, taught by Mr. Kelsey in R-7. On a usual day in class, students can expect visits from local businesses, like Keysight Technologies, LinkedIn, and American Medical Response. 
A vineyard manager at Eco Terreno Wines & Vineyards made a visit to present an internship with the company. Eco Terreno uses biodynamic holistic farming to produce their wine and sustainable techniques like composting and cover cropping to reduce waste and promote soil regeneration. Eco Terreno partners with Sonoma Corps to provide internships to Casa seniors, who can build experience in Sonoma County's wine industry. Industries like tech or wine that can be harder to break into are at the forefront of the program.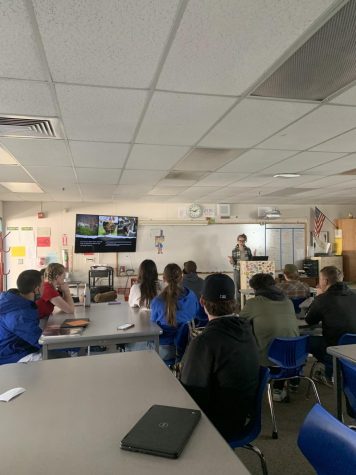 "The program is great for keeping your mind open. Sonoma Corps helps you build careers, not just any job you might have out of high school. This is a chance to build your future" says Ginger Baker, the Community Engagement Specialist with Sonoma Corps. 
The program is unique in its focus on Sonoma County businesses that have already seen success, proving that students don't have to leave Petaluma or pursue post-secondary education to achieve their career goals. 
"Understanding what you have right in front of you is important," emphasized Baker. 
Students in the class have already been able to experience and explore what the program has to offer in less than a semester. Jose Alvarez and Alex Millan were unsure of what to pursue after high school, and signed up for the class last semester.
"You can look into careers, see what's out there for you," explained Alvarez. 
"On field trips, you can visit the companies. Some of them I didn't even know about before," added Millan. 
Exposing the seniors to these opportunities is at the core of the class. Sonoma Corps is built to set students up for success through their gap year internship. All students are given the opportunity to interview and commit to a job upon graduation to start working at their company. In addition, the program partners with scholarship foundations to ensure students receive fair rates and financial aid for their career aspirations. 
Upon graduation, students can receive $1,000 annually for up to six years to be used towards their ambitions in education and employment. The one-on-one coaching that the program provides helps students make this transition into the workforce, and ensures a strong foundation in employability skills. 
"The class gives you opportunities to grow in long term careers," says Kylie Mills, "and explore things you might not have thought about." 
"The research questions, field trips; all that helps with career preparedness," Alice Williams corroborates. 
The students had prepared questions to ask at their upcoming field trip to the Blentech manufacturing facility in Santa Rosa. Through Sonoma Corps, students learn how to ask  important questions about opportunities for promotions and growth, wage negotiations, and networking opportunities. 
"These visits help humanize the companies. It helps you understand what you're working for, to really see it. That's important in a job," explains William Mann. 
Mann, although enrolled in the class, doesn't plan to commit to the gap year internship. The program is flexible, and students can take what they want from the class, whether they choose to commit to the internship or not. 
"The exposure is invaluable," says Mr. Kelsey, "It makes the program unique." 
Casa's pilot year with Sonoma Corps sees 29 students enrolled, with a majority planning to commit to the gap year internship. In the future, Gauchos can expect a more competitive class as demand for Career Technical Education rises. 
Casa Grande's partnership with the program is important for students of today, it provides alternatives and customizable career paths for students. At times, students can feel limited by the pathways presented to them — but there is more than college, or work, out of high school. Sonoma Corps lets students build a career in a growing, successful industry of their choice, a true foundation for their future.
Leave a Comment