On September 11, veteran quarterback Aaron Rodgers suffered a season ending injury while playing in his much awaited first game of the season. The New York Jet was tackled by Buffalo Bills defensive end Leonard Floyd during the first quarter of the game, which caused a complete Achilles tendon tear. This led to an immediate uproar from the Nation Football League Players Association, or the NFLPA, blaming the turf of MetLife Stadium as a crucial element that caused the injury.
The NFL introduced turf as a cheaper alternative to grass in 1965. Now, there are several forms of turf being put into use at exactly half of the 30 NFL stadiums. Along with being less costly to maintain, turf is more environmentally friendly as it does not require fertilizers or pesticides, and is not affected by extreme weather like rain or snow.
However, the NFLPA claims that turf is dangerous towards players and causes more substantial injuries, like the one faced by Rodgers. President JC Tretter said that during his rookie year, he found it strange how his teammates would groan when they found out they would be practicing on the indoor turf field. Soon enough, he realized why.
"Whenever I practiced on an artificial field surface, my joints felt noticeably stiffer the next day. The unforgiving nature of artificial turf compounds the grind on the body we already bear from playing a contact sport." he said in an article arguing for natural grass fields at all stadiums.
Data supports Tretter's claim. According to injury reports gathered by the NFLPA, there was a higher rate of injuries on artificial turf fields during the 2015-2022 seasons (1). Another study, run by Sport Info Solutions, reported that seven out of the 10 stadiums with the highest injury counts between 2017 and 2022 all had turf fields (2).
Physics also play a part in this argument. It is already known that football players exert high levels of force and rotation while on the field. While grass will eventually give way to the pressure, turf has less give which causes players to absorb the force of the impact. This increases the chance of a serious injury taking place.
Rodgers' injury isn't the first that has relit the flame of this debate. Dallas Cowboys quarterback Dak Prescott suffered a grisly ankle fracture while playing on an artificial turf. Nick Bosa, a defensive lineman for the San Francisco 49ers, had his 2020 season come to an early end after an ACL injury during the second game. After all these injuries, many NFL players have begun petitioning to ban artificial turf at all stadiums and replace it with grass.
Still, some players don't side with the natural grass argument. Retired quarterback Eli Manning has said that turf is important to have in states like New York where the weather is unpredictable. During bad weather games with a grass field, it would become a muddy mess. Turf doesn't have these problems, as it can withstand all types of weather.
While the issue remains contentious at present, the NFL continues to hold its position that artificial turf does not affect the rate at which players get injured, and it appears that no changes will be made to the league in the foreseeable future.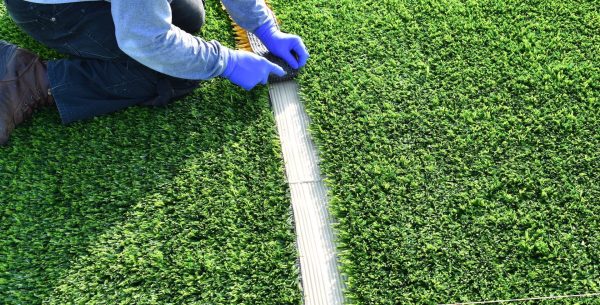 (1) https://www.nbcnews.com/data-graphics/new-data-shows-nfl-injuries-artificial-turf-stadiums-mostly-exceed-inj-rcna105123
(2) https://www.sportsinfosolutions.com/2022/11/08/the-effect-of-turf-on-injuries-in-the-nfl/