Breakage of the relationship between singer Taylor Swift and NFL Chiefs' Player Travis Kelce have increased sales and viewers of Kelce's games, in the past few weeks.
It all started July 26th, when Kelce was in attendance at the "Eras Tour," a journey celebrating Swift recollecting the rights to her music, after they were sold without her knowledge or consent. While there, Kelce tried to participate in the exchange of friendship bracelets, a common activity of her fans. Yet Kelce wanted to be different. While other fans wanted to exchange bracelets with each other, Kelce's goal was to get a bracelet with his phone number to Taylor Swift herself.
Around a month and a half later, Kelce declined to comment on his personal relationships in an interview with Andrew Siciliano. This sent the internet into a fury once again, as fans started to speculate that the two could actually be in a relationship.
Fast forward to September 24th, 10 days after the interview with Siciliano. This was the first spotting of Taylor Swift at one of Kelce's games. However, not only was she in attendance, she was also with his mom in a private box. Numerous photos and videos were taken of not only Swift, but also Kelce's face whenever he looked towards her direction. The team won that day 41-10, and the new iconic duo was seen driving off together in a blue convertible.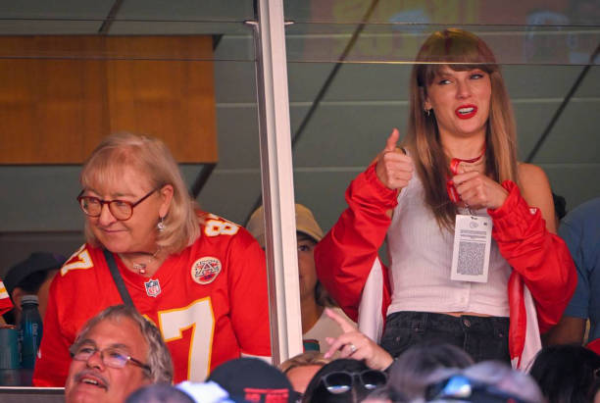 Immediately after the game, Travis Kelce jersey sales went up a whopping 400%. His followers increased on Instagram by 300,000, and the tickets for the next Chiefs game increased by 43% (1).
Those who bought tickets were not disappointed, as she again showed up- this time with another favorite couple: Ryan Renolds and Blake Lively. Swift and them were also accompanied by Sophie Turner, Sabrina Carpenter, and Hugh Jackman. Swift and her friends were again bombarded with photographs and video, all going viral.
The NFL has humorously responded by using Swift's music in their promotional videos, and using song lyrics and titles in their scripts. They even have a section on their TikTok page titled "Welcome Swifties," which includes all footage of Kelce and Swift that they've ever posted. However, some fans have argued that the NFL is "overdoing it," stating that the NFL was posting more about Swift than they were about the NFL.
Vanessa Velasquez, a Casa Grande junior and fan of each individual before they were a couple, remarked that, "It's great. They compliment each other very well, and I hope Taylor becomes an NFL wife."
Since then, the NFL has posted less Swift content. However, it is unknown if this change was caused by fan backlash or Taylor's absence at Kelce's games in the last 2 weeks. All that's left for the fans to do is to wait and watch this "Love Story" to unfold.
Sources :