It's still surprising that in 2023, we are grappling with book bans. Judith Krug, a director for Intellectual Freedom of the American Library Association, is the co-founder of the Banned Book Campaign and advocated for freedom of speech for authors and writers of censored books. The cause of Banned Book Week is a response to the censorship and banning of books in schools, stores, and even counties.  According to the American Library Association (ALA), the number of censored titles has skyrocketed from 729 challenges in 2021 to 2,571 in 2022. Parents are the people who are most involved in the banning of books at schools. 
The court case that started the idea of Banned Book Week was Island Trees School District v. Pico. This case took place in 1982, due to the Board of Education finding the books to be inappropriate for junior high and high school. Frances Pico, a student, argued on behalf of other students to take the Board to court. However, the students lost this case. Pico appealed the case and brought it to the U.S. Supreme Court, which decided in favor of the students at Island Trees School. 
There are an array of reasons why people would like these books to be censored, including accusations about sexual content, profanity, LGBTQIA+ content, and even witchcraft. The number one most challenged book of 2023 is Gender Queer by Maia Kobabe—a local Bay Area artist and writer who uses Spivak pronouns. The illustrated memoir tells Kobabe's story of finding eirself from childhood to adulthood. There have been 151 attempts to remove this book, stemming from claims about the book containing sexually explicit and LBTQIA+ content. Another book on the list is The Bluest Eyes, which was written in 1970 by Toni Morrison and tells a story about a young American girl in the Great Depression. There have been 73 attempts to remove this novel, due to claims about it depicting sexual abuse, EDI content, and generally sexually explicit content, said the ALA.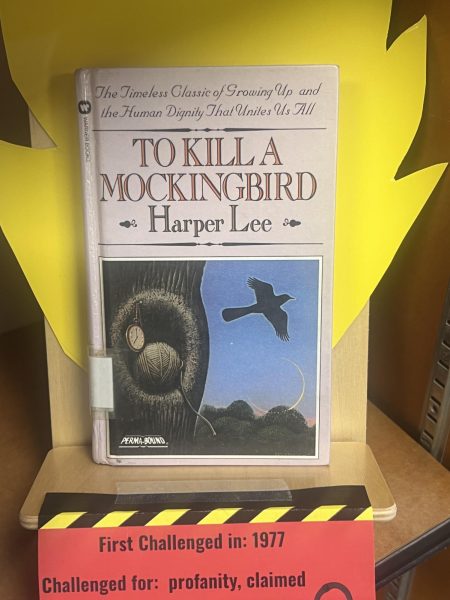 In past years, California schools have banned many classic books, from To Kill A Mockingbird to The Adventures of Huckleberry Finn. These books are considered part of the American literature curriculum and are still read by Casa students in English classes today. Recently, California Governor Gavin Newsom signed AB 1078, a bill that will protect all students' access to all books. In addition, the bill prohibits school boards from censoring books or textbooks.  In the official press release, Gov. Newsom stated, "With this new law, we're cementing California's role as the true freedom state: a place where families — not political fanatics — have the freedom to decide what's right for them."
At Casa Grande High School, the library puts their own touch on their display of Banned Book Week. They have displayed books and quotes, along with reasons for why various books have been banned. Yvonne Glasscoe, whom most of our students know as Ms.Yvonne, has taken the time to make this display to show the books that have been banned. When talking to the well-known librarian Mr. Libecap about his thoughts on Banned Book Week, "Of all the things to be afraid of, ideas that are different than our own should be at the bottom of our list," adding, "It's fulfilling to have a job protecting and supporting the first amendment".