Casa Grande High School Choir Gets Invited to Sing at Historic Downtown Post Office Renaming Ceremony
Casa Grande's student choir was invited to sing at the renaming ceremony of the historic Petaluma Post Office downtown on 4th Street. Congressman Jared Huffman, California's 2nd congressional district representative, led an effort to rename this landmark after his predecessor, former Representative Lynn C. Woolsey. 
Woolsey served in office from 1993 to 2013; her district included all of Marin County and most of Sonoma County. During her time in congress in Washington D.C. a major component of her work centered around creating equality for women in Congress. A member of Huffman's team reached out to CGHS choir director, Sean Millard, and coordinated an appearance at the ceremony.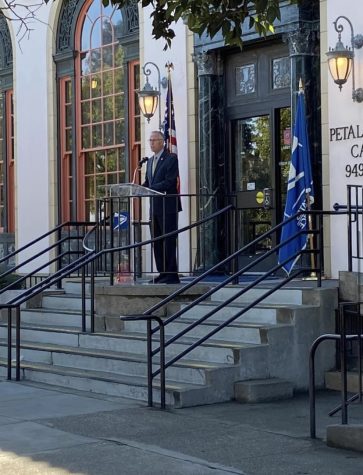 Millard, who has been the choir director for about 15 years, also directs jazz and symphonic band. He remarked that an event of this magnitude was a first for Casa. "My whole thought is as much as we can get into the community. I would love to say yes every single time. We've done things like this before, but it's when people call and ask," says Millard. Choir has performed at various community events like ones for the Polly Klaas Foundation, Lion's Club, Rotary Club, and Downtown Association, but to be invited to an event with government officials present was new territory. 
When asked about how this invitation came about, Millard remarked: "Ms. Castleberry, an English teacher here at Casa, knew that I do choir because her daughter went through it when she was here when I taught it. She is in contact with the staffers for Congressman Huffman, who is in our district. And evidently, they're renaming the post office downtown which I believe is over 100 years old. Congressman Huffman led an effort to rename the whole post office in honor of Congresswoman Lynn Woolsey, who was in Congress for 20 years representing this area. So, I think [Huffman] wanted to honor her by renaming this downtown post office after her since she's from Petaluma."
Besides working on their performances for the various community events they attend, choir works on a variety of pieces. Dakota McMichael, a Casa senior, describes a normal day in choir: "When we get into choir, sometimes [Mr. Millard] will have us do some bookwork, which is just learning how to read music and things like that," he recounts. "Generally though, it's learning the lyrics to songs that aren't in English, or just learning the lyrics to songs in general. Also learning our parts because we were split into three [voices] and sometimes even more."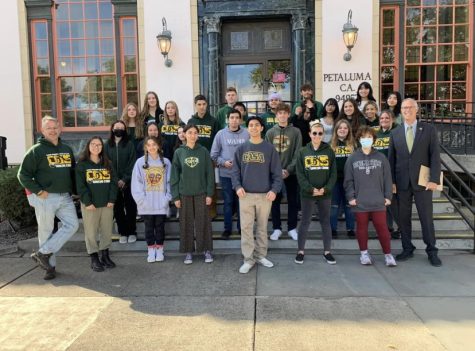 From a teacher's standpoint, getting everyone to the point where they can learn their music correctly can be a difficult task at times. "We have singers that have been doing it for a long time and taking private lessons and are well beyond a lot of what I'm doing. Not all of it, but a good amount. I also have people who've never sang in a choir, they just like to sing or are just trying it out for the first time," says Millard. Getting to the point where they can perform, let alone sing as a whole can be a journey, but it's well worth it. Mathilde Henriksen, first-year choir student, says, "My favorite part is when we practice so much it actually starts to sound good. It's fun to hear the good."
Choir also is famed for its inviting and friendly atmosphere. "It's just a really fun class. Everyone's really nice," says senior Kenzie Marks. She is a second-year choir student. When talking about favorite parts, Dakota McMichael, first-year choir student, said,"Honestly, I would say it's the people. Even though I haven't been here very long, I can see that previous people in choir have had time to develop very strong friendships. Mr. Millard always says it's your second family, and I can appreciate that." 
The choir class has quite a few performances ahead of them. Clearly, they received a well deserved spotlight at this historic renaming ceremony in Petaluma history.
Leave a Comment