Tennis Senior Night – A Bittersweet Ceremony
Ashika Balakumaran, along with three other dedicated Casa seniors, have just celebrated the final tennis match of their high school careers during Casa's Senior Night. Senior Night is a tradition carried out by all Casa sports; its purpose is for seniors to reflect on past memories and for other players to appreciate those upperclassmen who are ready to graduate and move on from their high school athletic careers. During this emotional day, all other grades will decorate and show appreciation for the committed seniors on their varsity team. For some players, like Balakumaran, Senior Night may mean saying a bittersweet farewell to a sport that she has played for seven years. Balakumaran intends to keep playing tennis while attending college and will "…bring her racket wherever she goes."  Senior year could be the last time she plays at a competitive level.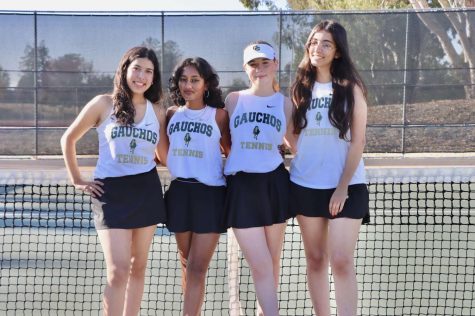 The girls varsity tennis team placed third overall in their league, tying with Vintage High School and fighting for their podium placement throughout the whole season. Balakumaran explains how playing tennis at Casa has helped not only her athletic life but her social and educational life as well. Many of her friends have come from her deep rooted dedication for the tennis teams as a Casa tennis player; she explains that "…playing with other kids your age is very helpful," and that "…you end up having to branch out, which is a really important and positive thing." 
Balakumaran is the captain of the varsity tennis team and has put in work for seven years, four of which she played at Casa. Her efforts led to her becoming an outstanding tennis player She is a prime example of a hard-working student who uses athletics as a hobby and relationship builder.. Balakumaran plans on attending a four-year college and is eagerly waiting to hear results of her applications. Being the modest and warmhearted person she embodies, she thanks her teammates and junior captain and friend, Halle, for the bonding and hard work that went into this season.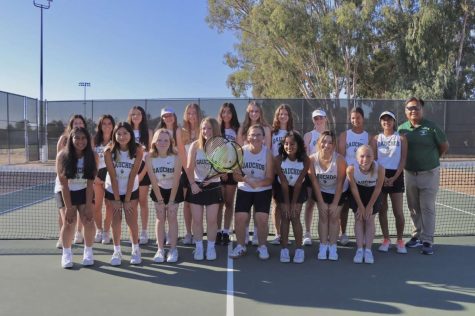 Finally, Balakumaran had one final message for her coach, Fred Buot, the man in charge of making this experience possible: 
"
I would like to thank my coach because he did a really good job of making this team feel like a second family, it's important to have a good environment when you're playing such a hard sport."
— Ashika Balakumaran
Leave a Comment