Who is Nicole A. Mann?
Nicole A. Mann was the first Native American woman to launch into space. Mann was born in Petaluma, grew up in Penngrove, and graduated from Rancho Cotati High School. She is part of the Wailacki of the Round Valley Indian Tribes in Northern California. After high school, she attended the US Naval Academy, where she graduated in 1999 with a Bachelor of Science degree in Mechanical Engineering. Then, in 2001, she graduated from Stanford after earning her Masters of Science in Mechanical Engineering.
Mann expressed that as a child she would lay on the grass, and look up at all the stars in the sky. She imagined herself there, but she didn't actually think that would be a possibility. 
Additionally, Mann is also a Colonel in the U.S. Marine Corps and assisted as a test pilot. She has flown 47 combat missions in Afghanistan and Iraq. All together, Mann has flown more than 2,500 hours. With that, it's quite easy to say that Mann has experience flying and is notably great at it. It wasn't until Mann started flying more in her military career that she realized that she could actually be an astronaut.
Because of her extensive experience, she was a perfect candidate for an astronaut position. In 2011, when Mann applied to be an astronaut, 6,000 other people applied as well. And out of those 6,000, only eight would be picked. Two years later, Mann would be among those 8. From 2013 to 2015, Mann completed her astronaut training, which included the International Space Station systems, Russian language training, and wilderness survival training. By that point, it was only a matter of time until Mann was in space.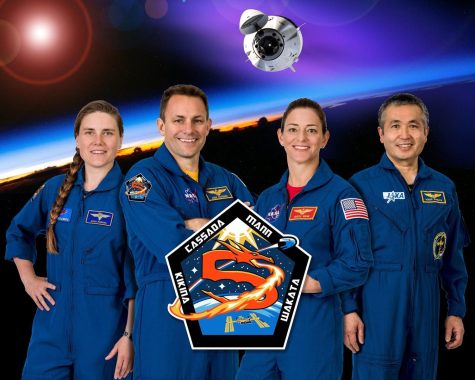 Then, Oct. 5, 2022, Mann launched into space with four other crew members on the SpaceX Crew Dragon. She was finally on her way to see the stars, just as she had imagined as a child. 
On her mission, her and her crew mates conducted many scientific experiments, while also doing a lot of mechanical maintenance. The crew did this all while orbiting the earth at 15,000 mph. They spent 157 days in space, landing back on earth on Mar. 11, 2023 in Florida. The trip lasted a whopping 19 hours. The Petaluma native and her crew all made it back safely. It is safe to say this was a successful and fulfilling mission. 
Mann plans to continue her tenure with NASA and is set to be involved with the upcoming Artemis program, which will return humans to the Moon for the first time since 1972.
Leave a Comment