October 26 was the premiere of the Five Nights at Freddy's movie: a film rendition of the beloved video game franchise. Many were excited for the movie, having been invested in the franchise since 2014 when it first came out. But others were also nervous for the film because they didn't want their favorite game to be misrepresented or tainted. Among the excited moviegoers were a group of friends who filled up a whole row of the Boulevard 14 Cinema to watch the long awaited movie.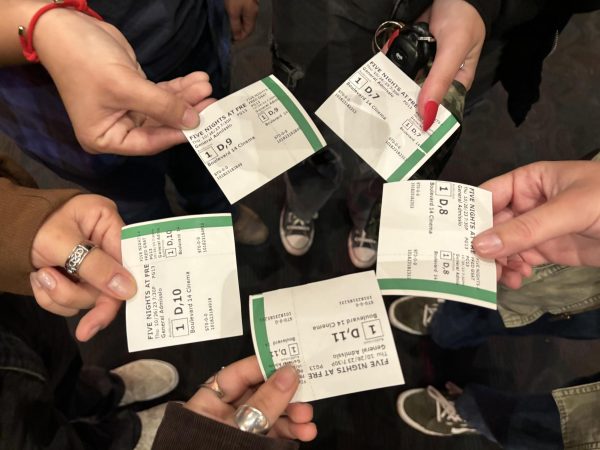 Before the film, the teenagers shared their thoughts on what they were expecting for the movie. Graduate Sam Laprade stated, "I'm excited! I've waited nine years for this moment, for this beautiful, beautiful moment. I hope it's good — if critics say it's bad, then it's good because the critics don't know anything, the audience does, an audience that has been following for nine years." 
Senior Camy Stinson said "I am so excited, I've been waiting for nine years, since like 2015. I have been waiting for this movie for my entire life. This is what my whole life has been building up to. After this, I have nothing else to look forward to. No other goals, no other aspirations."
The tense energy could be felt in the theater as the viewers, most of whom grew up with the series and have associated the games with their childhoods, nervously awaited the first scene of the film. The moment the movie started, the audience went silent, closely watching every frame. The movie followed Mike Schmidt, the new night guard at Freddy Fazbear's Pizza, and his attempts to take care of his little sister, Abby, while trying to find his brother's kidnapper. He soon learns that working at Freddy's is not going to be the easiest job he's had, with the animatronics coming to life at night.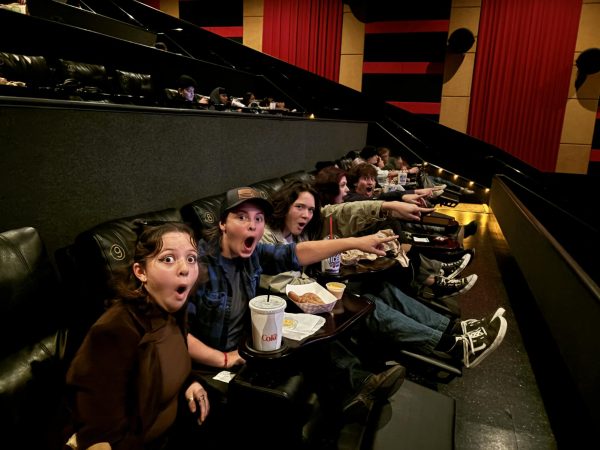 "It was really good, but not Springlock. I know it's supposed to be PG-13 but it's Five Nights at Freddy's, it came out when we were kids but now we're adults," said graduate Kat Stinson after the movie concluded. Camy Stinson loved the moving and stated "Peak movie. Honestly everyone said it was going to be bad, but I really enjoyed it. But, that could just be my bias of being a longtime Five Nights at Freddy's fan. But, I loved it."
The group later discussed amongst themselves about their thoughts on the movie. Graduate Stephen Allen felt the movie should have stuck to the lore more and that it strewed too far from the original storyline. Camy combated his statement, interjecting that the over 30 books that have been coming out since 2015 "were also mostly their own thing". Sam agreed with Camy, commenting "the lore is a lot, and I feel like if they were to make a movie following all of the game lore it might be a little confusing." "Ultimately, I agree," said Stephen, "But also, I wish that it was just straight up the game lore and then I could feel good about it being in a movie format." Camy then pointed out that "the game lore is just so not accessible." 
There were many mixed opinions about the film. Some felt the movie was okay and wasn't anything extraordinary, while others thought the movie was amazing and represented the franchise pretty well. Additionally, many of the viewers, who don't know the franchise's lore, still thought the movie was good and could still be enjoyed without the knowledge of the games' history.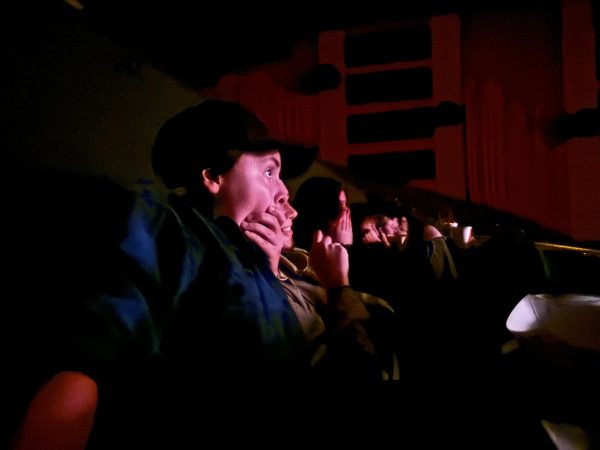 Camy finalizes her thoughts noting "It was genuinely one of the only adaptations that was made for the fans because there was a lot of passion in it and it didn't feel generic." Scott Cawthon — the video game developer and writer who created the games — helped write the screenplay so Camy felt "that really helped the movie feel more authentic, which I appreciate. I feel like just as a fan, I have a little bit of rose tinted glasses on with the movie, but I loved it either way." For many, this movie is more than just an adaptation, it's their childhood and a passion on the big screen. Sam felt this way, nervously laughing as she said "I've been waiting for this movie for nine years and it finally came out and now it's like 'oh… my childhood is over.'"
From an outside perspective, the movie can still be enjoyed and may be worth checking it out. It may also be an opportunity to learn more about a community and develop their knowledge on a new franchise. But for those who hold this video game close to their hearts, the general feedback has been good from other 'FNAF' fans. While some details may have been left out or altered in some ways, this is a general pattern with many adaptations and should not prevent one from watching the movie. In the end, whether you are a die-hard fan of 'FNAF' or just an interested newcomer, this movie is sure to intrigue and entice wonder and fright.