8 Must See Festive Lights in Petaluma
To begin this bright journey, Ms. Campbell's house is a must. Ms. Campbell used to be Casa Grande's Sports Medicine teacher, and Athletic Trainer for many years. Every year, she goes all out and beautifully decorates her house. She was even interviewed by a local news station last year. Her house is located at 5 Wallenberg Way. It's quite difficult to miss.
This Charlie Brown Christmas is on the corner of a street at 400 Lindberg Circle. You can see Charlie and his friends in a magical winter wonderland environment walking along the sidewalk.
This next house was rather charming. It was filled with so many details; the longer you looked, the more you found. Fans of Charlie Brown should also make this home a must-visit. It's located at 382 Albert Way.
This adorable house is located by McKinley Elementary in a cute neighborhood by Lynch Creek. You can visit it at 884 Holly Lane.
This massive, green lit tree catches your eye as you drive by it, behind McDowell Elementary, on the very corner of the street at 1444 McGregor Ave.
This house is right behind Casa, right after the Crinella Drive and Caulfield Lane intersection by La Tercera Elementary. It has a wonderfully festive rooftop sign titled "Merry Xmas." It can be seen at 1505 Meadowlark Lane.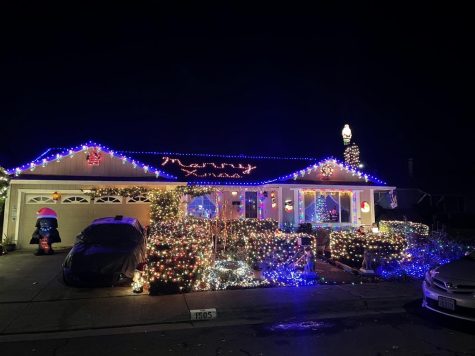 1422 Baywood Drive has a gorgeous, white inflatable reindeer; with many other friends accompanying it.
This is THE inflatable house. It had inflatable after inflatable; it seemed as if they were never ending. This house also lit up the whole street. This beauty can be seen driving down Ely Boulevard S. It's located on the corner of the street, at 1900 Clydesdale Way.
Leave a Comment