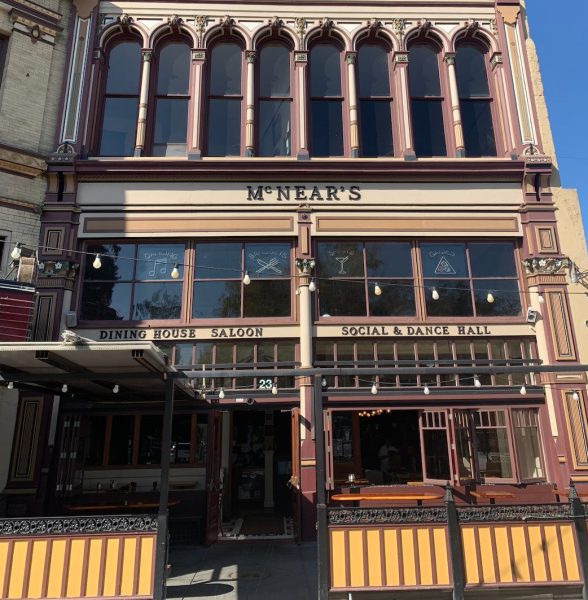 Located in downtown Petaluma is the McNear building, which is McNear's Saloon and Dining Hall next door to McNear's Mystic Theater. John McNear had lots of visions for new establishments he wanted to create. 
John McNear lived in Petaluma with his family at the time, running a business he established called McNear's Feed and Seed. Eventually, he had an ambitious idea to create his own restaurant. John McNear's son, George McNear, attended Petaluma High School but then dropped out in an effort to help his father with his grand vision.
Years of preparation and planning went into this restaurant, and it ended up being definitely worth it. In 1886, the building of his restaurant had begun. The doors officially opened on St. Patrick's Day in 1911 after years of hard work, and now McNear's Saloon and Dining Hall was finally in business. 
As you may have noticed, next door to McNears Saloon and Dining Hall is a building that goes by the name of McNears Mystic Theater. Once the restaurant opened in 1911, John McNear decided to build a theater next door to his restaurant. The Mystic Theater was a venue for Vaudeville entertainment which consisted of singers, comedians, magicians, and more. In 1992 the theater was renovated so it could hold up to five hundred guests. The Mystic Theater hosted notable artists such as Van Morrison, Carlos Santana, and the son of Bob Marley, to name a few. The first performance to occur at the Mystic Theater was done by a rock band called the "Arc Angels" on July 19, 1992. 
To this day, both the Mystic Theater and McNears Saloon and Dining Hall are in business. John McNear's restaurant has become a Petaluma staple and is likely to remain for years to come. This building has over thirty years of history in Petaluma and continues to attract visitors. McNear's restaurant menu has a wide variety of food, with over forty items on the menu. Inside guests are able to watch their favorite sports games on the televisions, listen to different kinds of music, and play games such as pool.