Winter Activities of Sonoma County
Winter is here! The leaves have fallen from the trees and the rains have filled Petaluma's hills with green (and caused a major multi-day power failure at Casa Grande). During our unexpected break, many students–including myself–gathered in colorfully lit homes to bake treats and stay cozy. The dark winter weather naturally lowered the spirits for many and moved students back inside, something we have all had plenty of after the coronavirus pandemic. Still, it hasn't stopped us from finding ways to stay connected and entertained.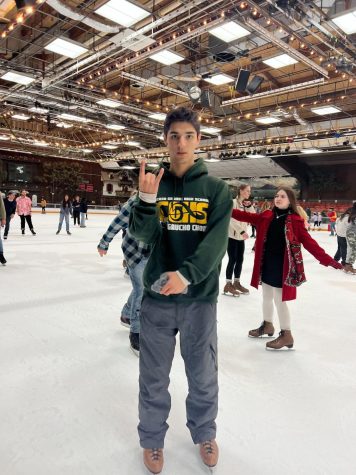 The Redwood Empire Ice Arena (commonly known as Snoopy's Home Ice), a Disneyland-esque ice rink in Santa Rosa, offers public skating and a reserved area for beginners. Admission is set at a price of $10 on weekdays, which includes ice skate rental, and access to their extravagantly decorated arena and diner. This is a great experience, especially for young Californians who don't get snow, to experience a little winter wonderland. I would rate it 10/10.
Tahoe's ski season is also in full swing, especially after the recent winter storm, and they expect almost ten feet of snow over the weekend. Ticket prices are criminally high as always, but there are significant savings at certain ski areas, such as Sierra at Tahoe. Another tip for the winter wonderland wanderer: Sports Basement and other local businesses in Sonoma offer prices for winter weather gear at often a fraction of the price on-resort rentals and gear.
Bringing it back home, CGHS ASB has organized Winter Spirit Week this week! To participate, be sure to dress according to each day's theme: 
Monday: Groutfit
Dress in all gray to celebrate the athleisure (sweats and hoodies) worn by our gauchos this winter season!
Tuesday: Country or Country Club
Dress up or dress out on the farm with this funny little play-on-words theme. All in good fun!
Wednesday: Rhyme Without Reason
Make a rhyming outfit with a friend, for example, Mr. WorldWide and Corpse Bride, or get seasonal with Ho Ho Ho and Finance Bro. 
Thursday: PJ or Professional
Another chilly weather theme that allows two different styles. I'm on team PJs!
Friday: Color By Class
Ending strong with the classic Color By Class theme, which usually closes out our spirit weeks.
Leave a Comment